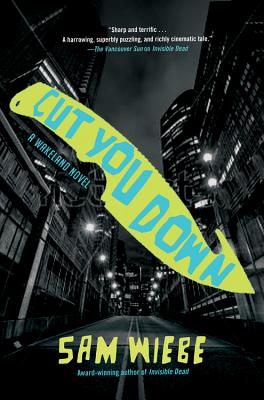 Cut You Down (A PI Dave Wakeland Novel #2) (Hardcover)
Quercus, 9781681440231, 288pp.
Publication Date: February 13, 2018
Other Editions of This Title:
Paperback (1/8/2019)
Pre-Recorded Audio Player (2/13/2018)
* Individual store prices may vary.
Description
"SAM WIEBE IS GOING TO BE BECOME A MODERN MASTER OF NOIR." --Andrew Gulli, Strand Magazine
"WIEBE CONVINCINGLY BRINGS RAYMOND CHANDLER INTO THE TWENTY-FIRST CENTURY." --Publishers Weekly (Starred Review)

"PACKED WITH THEFT, GANGS, DOUBLE CROSSES, MURDER, AND SUSPENSE THAT WILL KEEP YOU ON EDGE RIGHT UP TO THE END." --5-Star Reader Review
Sam Wiebe returns with PI Dave Wakeland's latest missing-persons case, a strange investigation that quickly becomes a fight for survival.
No one knows what happened to Tabitha Sorenson, a brilliant but troubled college student who vanished in the aftermath of a scandal involving millions of dollars in school funds. Hired to find the missing young woman by her professor (and admirer) Dana Essex, private investigator Dave Wakeland is tossed into a world of suburban gangsters, corrupt authorities, and a contract killer with an unhealthy fondness for blades--all of them ready to guard their secrets at any cost.
When the investigation takes a deadly turn, the young PI crosses borders--and lines--in his hunt for a sadistic killer, a journey of discovery that takes him from the back alleys of a rapidly modernizing Vancouver to the wilds of Washington State to a disorienting suburban sprawl, where nothing is as it seems.

About the Author
Sam Wiebe is the author of Invisible Dead, the critically acclaimed first novel in the Wakeland series, as well as the stand-alone debut Last of the Independents. His work has won an Arthur Ellis Award and the Kobo Emerging Writers Prize, been nominated for a Shamus award, and been shortlisted for the City of Vancouver Book Award.

Praise For Cut You Down (A PI Dave Wakeland Novel #2)…
"Excellent . . . A study in both riveting crime writing and stark social realism . . . Wiebe takes the raw material of Vancouver's societal breakdown and fashions it into a highly readable crime novel--not to mention a statement on the times."—
Toronto Star
"Sam Wiebe is going to become a modern master of noir."
—
Andrew F. Gulli, Strand Magazine
"Wakeland takes on two difficult cases in Wiebe's superlative sequel to 2017's
Invisible Dead
. . . The parallel investigations modulate into one cleverly tuned commentary on a society that forces its citizens to choose between doing the wrong thing for the right reason and doing the right thing for the wrong reason . . . Wiebe convincingly brings Raymond Chandler into the 21st century."
—
Publishers Weekly (Starred Review)
"Wakeland harkens back to such private eyes as Sam Spade, Philip Marlowe, and other crime noir detectives . . . where the lines between good and bad were blurred at best, they never knew who they could trust, and the criminals were as colorful as the good guys. With fast action and numerous twists, the reader will find themselves wanting to get to the next page . . . I'm looking forward to seeing if Wakeland is able to get back on his feet, or what kind of haymaker life throws at him next."
—
Killer Nashville
"What a pleasure it is to encounter a new voice, a new kind of edginess, a contemporary formulation of detective fiction that has the heft and distinction of the genre's classics.
Cut You Down
is a true puzzler, filled with unusual characters and majestically described places--though many of those places are not at all majestic . . . It's easy to see why Sam Wiebe, still early in his career, has already received accolades and awards."
—
Washington Independent Review of Books
"
Cut You Down
is the second of Sam Wiebe's novels on the case with David Wakeland, a brooding, fists-ready, disappointed romantic of a PI. Grippingly twisty entertainment . . . Wiebe's spare, meticulous sentences are little marvels of concision."
—
Brett Josef Grubisic, Vancouver Sun
"An exciting page-turner that all fans of noir will enjoy,
Cut You Down
by Sam Wiebe introduces Vancouver to a US audience that might not be all that familiar with the city. A wonderful setting and likeable characters, lots of action and subtle humor will have readers calling for more stories featuring Dave Wakeland."
—
D.R. Meredith, New York Journal of Books
"This gritty, noir-style thriller is perfect for readers who enjoy an atmospheric social novel in which setting and character merge to create a powerful whole."
—
BOLO Books
"Wiebe manages to pack in a profound amount of thought and compassion and criticism of the genre . . . while never skimping on the joys of it."
—
Bookshelf
"A fresh spin on the tough yet emotionally vulnerable private eye."
—
Mystery People
"Sam Wiebe is a master of tone and atmosphere."
—
Benoit Lelievre, Dead End Follies
"Sam Wiebe has done a great job of scaring the pants off the reader, developing Dave's character, and introducing two new female characters. Wiebe is a literate and witty writer and
Cut You Down
is a worthy second in a series that, one hopes, will be followed by many more Wakeland novels."
—
Reviewing The Evidence
"Wakeland's humanity is the driving force in
Cut You Down
, making this one of the better private eye series around."
—
Unlawful Acts
"
Cut You Down
is the second entry into what is an enjoyable and entertaining novel starring Vancouver PI Dave Wakeland . . . Mix in a shady client, a mob connection related to another case, a dirty cop, and you have a compulsory PI novel of the best kind."
—
Great Mysteries and Thrillers
"Another deftly crafted gem by a master of the genre, Sam Wiebe's
Cut You Down
is a riveting read from cover to cover."—
Wisconsin BookwatchPraise for Invisible Dead
"A story as appealing as it is mysterious."
—
Toronto Star
"Haven't yet heard of Sam Wiebe? You will soon . . . Lots of personal demons and good backstories give this novel heft. Wiebe is definitely a writer on the rise."—
The Globe and Mail
"Sharp and terrific . . . A harrowing, superbly puzzling, and richly cinematic tale."—
Vancouver Sun
or
Not Currently Available for Direct Purchase