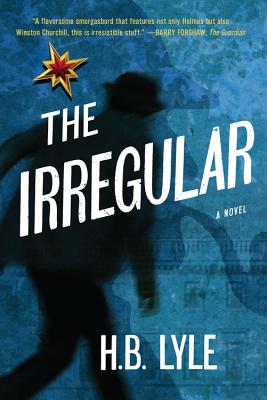 The Irregular (Hardcover)
A Different Class of Spy
Quercus, 9781681440279, 288pp.
Publication Date: November 7, 2017
Other Editions of This Title:
Paperback (10/2/2018)
* Individual store prices may vary.
Description
AS AN URCHIN LIVING ON THE STREETS OF LONDON, WIGGINS SPIED FOR SHERLOCK HOLMES. AS A MAN, HE SPIES ON THE ENEMIES OF THE BRITISH EMPIRE.
"OUR MOST TALENTED HISTORICAL MYSTERY WRITER TODAY." --ANDREW GULLI, STRAND MAGAZINE
"A TWIST-FILLED ADVENTURE." --THE WALL STREET JOURNAL
"THE GAME IS MOST DEFINITELY AFOOT." --MICK HERRON

London 1909: Vernon Kell, head of counterintelligence at the war office, wants to set up a Secret Service, but to convince his political masters he needs proof of a threat. And to find that proof, he needs an agent he can trust who is smart, ruthless, and able to blend in with the hoi polloi.


As it happens, the man Kell needs is Wiggins. An ex-soldier with a talent for deduction perhaps second only to the Great Detective, Wiggins was a Baker Street Irregular, part of a gang of urchin investigators trained by Holmes himself.
Unfortunately, Wiggins "don't do official," but when his best friend, Bill, is killed by Russian anarchists, Wiggins realizes that accepting the role of secret agent could give him the cover he needs to pursue revenge against Bill's killers.

Tracking down the Russian gang responsible for the murder and assembling a motley network of allies and informants in the process, Wiggins begins to unravel a deadly international conspiracy.
About the Author
H.B. Lyle lives in South London with his partner and their twin daughters. After a career in feature film development, he took an MA in creative writing--and then a PhD--at the University of East Anglia, an experience which led to the creation of The Irregular, his first novel. He also writes screenplays and teaches undergraduates.
Praise For The Irregular: A Different Class of Spy…
Nominated for the 2018 Best First Novel, Barry Award
"With so many books set in the wide world of Sherlock Holmes, it is difficult to come up with a new story that is both original and compelling, but H.B. Lyle has managed it beautifully with
The Irregular."
—
Otto Penzler, ed., The Big Book of Sherlock Holmes Stories
"An inventive espionage thriller set before World War I . . . A twist-filled adventure that proves far from elementary."
—
Tom Nolan, The Wall Street Journal
"Just when it seems that Sherlock Holmes-inspired books are old hat, along comes this thrill ride of espionage, conspiracy, murder, and yes, even romance, set in 1909 London. Both fans of Sherlock Holmes and spy novels will enjoy this debut by a former screenwriter peppered with historical figures like Winston Churchill, especially when the ending hints of more adventures for the first British double-0 agent ever."
—
Barbara Clark-Greene, Library Journal
"Lyle offers a skillful blend of fact and fiction, from Holmes and Watson to Churchill and the real-life leaders of the agencies that became MI5 and MI6. A compelling series debut and a natural read-alike for Robert Goddard's Max Maxted series and David Downing's Jack McColl series."
—
Booklist
"Handsomely crafted . . . The villains here are world class, with German munitions giants, Russian anarchists, and a couple of rather unexpected conspirators as well. Lyle achieves a nice blend of history and mystery, with cameo appearances by such fictional and real-life luminaries as Holmes and Winston Churchill."
—
Bookpage WhoDunit Column
Fans of Arthur Conan Doyle's stories will remember young Wiggins as the leader of the Baker Street Irregulars . . . Though Lyle's debut novel is certainly an homage, it's not a flat-footed imitation but a crisp, stylish spinoff."
—
Kirkus Reviews
"An entertaining blend of history and fiction . . . Lyle's descriptions of 1909 London are vivid. One can almost smell the coal smoke and the raw sewage.
The Irregular
is a compelling book, one to add to one's reading list."
—
New York Journal of Books
"I think H.B. Lyle is probably our most talented historical mystery writer today. An author who writes like a veteran but instead brings a fresh new perspective."—
Andrew Gulli, Strand Magazine
"H.B. Lyle has found the golden thread between Holmes and Bond in a thriller that engages on every page."
—
Giles Foden, author of The Last King of Scotland
"A thrilling story of espionage, murder, and the creation of the Secret Service."—
Charles Cumming, author of A Divided Spy
"A fine first entry in what promises to be a great new series. Wiggins is a captivating hero, and Lyle draws his Edwardian backstreets in convincing color. The game is most definitely afoot."—
Mick Herron, author of the Slough House series
"An exciting, action-packed adventure set in London in 1909 . . . Takes the Sherlock Holmes legacy in a new and thrilling direction."—
Stephen Thornley, Shots Magazine
"A good deal of excitement and some enjoyable riffing on both the history of espionage and the Conan Doyle canon, with cameos of everybody from Winston Churchill to Mr. Holmes himself . . . The book is a treat."—
Sunday Express
"A flavorsome smorgasbord that features not only Holmes but also Winston Churchill, this is irresistible stuff."—
Barry Forshaw, The Guardian
"Impressive period detail and sharp dialogue add charm to the strong plot."—
Daily Mail
"It is hard to generate something new in such an avalanche of well-worn tropes, but H.B. Lyle has managed to do that quite cleverly in
The Irregular
."—
Crime Time
"A fast-moving, hugely enjoyable story with interesting characters and authentic background . . . It is the first of a series, and I look forward to the sequels."—
Historical Novel Society
"The story is fast-paced, rich in descriptions, and the dialogue is true to the characters. Overall, this book is just plain fun. It is sprinkled with real life personages, such as Captain Kell, Winston Churchill, and MI6 founder Mansfield Cumming, as well as the literary characters of Wiggins, Sherlock Holmes, and Dr. Watson."—
Clayton Thomas Booksellers
"
The Irregular
is a fast-moving, hugely entertaining thriller that evokes Victorian London with great panache. There are a host of appealing characters. Lyle is especially adept at mixing actual persons and events with imagined ones. I'm delighted to report it's the first of a series."
—
Irma Heldman, It's A Mystery Column
"It's not easy for an author to come up with an original idea for a novel, much less a plot involving Sherlock Holmes. But that is just what H.B. Lyle has done, albeit the great detective here only playing a minor cameo role . . . Exciting, interesting, and fast-moving."
—
Theodore Feit, Spinetingler Magazine
or
Not Currently Available for Direct Purchase