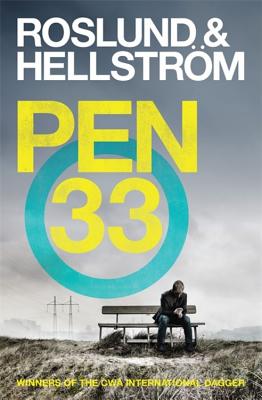 Pen 33 (An Ewert Grens Thriller #1) (Paperback)
Quercus, 9781681440576, 336pp.
Publication Date: November 6, 2018
* Individual store prices may vary.
Description
BERNT LUND IS AN UNREPENTANT MONSTER. AND NOW HE'S ON THE LOOSE . . .

AN UNFLINCHING EXPLORATION OF WHAT PEOPLE--BOTH CRIMINALS AND VICTIMS--ARE CAPABLE OF WHEN THEY RELINQUISH SELF-CONTROL.
"BLISTERING." --PUBLISHERS WEEKLY (STARRED REVIEW)
"PROVOCATIVE." --BOOKLIST (STARRED REVIEW)
"THIS IS NO STANDARD THRILLER." --KIRKUS REVIEWS

Bernt Lund harbors a sickness. He is a monster, an unrepentant child molester and serial killer. In the mind of society, in the minds of his nine-year-old victims' parents, and in the minds of his fellow inmates, he is a waking nightmare. And now he has escaped from custody--the worst scenario imaginable for Aspsås Prison's Department for Sexual Crimes.
Detective Superintendent Ewert Grens is about to encounter the most profoundly appalling case in his career, and perhaps in Stockholm's history. During the course of one long, hot summer, Sweden will face an explosive series of events that spread across the country like wildfire, events that call into question the very nature of humanity, duty, forgiveness, and self-defense. And justice.
About the Author
Award-winning journalist Anders Roslund and ex-con Börge Hellström are Sweden's most acclaimed crime-fiction duo. Their unique ability to combine inside knowledge of the brutal reality of criminal life with searing social criticism in complex, intelligent plots has put them at the forefront of modern Scandinavian crime writing. Three Seconds was awarded the Crime Writers' Association International Dagger Award and the Best Swedish Crime Novel Award, previously won by both Stieg Larsson and Henning Mankell, and it was a New York Times bestseller.

Praise For Pen 33 (An Ewert Grens Thriller #1)…
"Blistering . . . Roslund and Hellström force [readers] to consider who in this denunciation of governmental policies and practices are the victims and who are the criminals."—

Publishers Weekly (Starred Review)

"Provocative . . . The masterful writing and cleverly constructed layers make a handsome reward for those who can bear the graphic, first-person descriptions of murders."—

Booklist (Starred Review)

"Gritty and frequently chilling

. . . Pen 33

is a disturbing novel as it indicates that events cannot always be seen in black-and-white."

—

New York Journal of Books


"Known for the social consciousness they bring to their [books], Roslund and Hellström depict a world riddled by abuse . . . This is no standard thriller. [They] chill the bone with their account of a monstrous pedophile."

—

Kirkus Reviews


Winner of The Glass Key 2005 for Best Scandinavian Crime Novel of the Year




Praise for Roslund & Hellstrom




"A thrill-a-minute cat and mouse game . . . A grimly amoral tale."

—

Marilyn Stasio, The New York Times Book Review

"A sprawling and often gripping thriller . . . The gritty details of drug dealing, of prison life, and of the relations between cops and informants are all rendered with convincing authority in

Three Seconds

."—

Tom Nolan, Wall Street Journal

"The twisty plot makes for propulsive reading."—

Entertainment Weekly

"It's like

Traffic

on the Swedish-Polish border, but everything from the weather to the criminals' hearts is a little colder."—

People Magazine

"Of all the books in the series, this is arguably the most important and controversial one . . . Roslund and Hellström's brutal collaboration provides stark and unforgettable imagery, and raises questions that aren't easily answered to anyone's satisfaction."

—

Joe Hartlaub, The Bookreporter