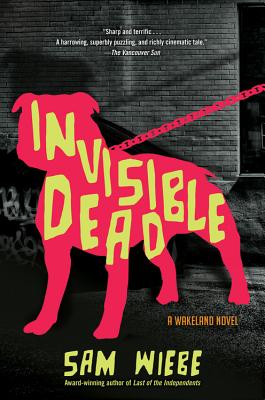 Invisible Dead (A PI Dave Wakeland Novel #1) (Paperback)
Quercus, 9781681440712, 320pp.
Publication Date: May 2, 2017
Other Editions of This Title:
Hardcover (5/2/2017)
* Individual store prices may vary.
Description
"WITTY, SMART, DETAILED, AND HIGHLY ENTERTAINING." --STEVE BERRY
"SHARP AND TERRIFIC." --THE VANCOUVER SUN
"A MUST-READ FOR FANS OF NOIR." --5-STAR READER REVIEW

A gritty private-eye series begins on the streets of Vancouver, featuring an ex-cop with a moral compass stubbornly jammed at true north.
When PI Dave Wakeland is hired by a terminally ill woman to discover the whereabouts of her adopted child, who disappeared as an adult more than a decade earlier, it seems like just another in a string of poor career decisions.
Wakeland is a talented private investigator with next to zero business sense. And even though he finds himself with a fancy new office and a corporate-minded partner, he continues to be drawn to cases that are usually impossible to solve and frequently don't pay.
But it turns out this case is worse than usual, even by his standards. An anonymous tip leads Wakeland to an imprisoned serial killer who steers him toward Vancouver's terrifying criminal underworld. With nothing to protect him but his wit and his empathy for the downtrodden and disenfranchised, Wakeland is on the case.
About the Author
Sam Wiebe's stand-alone debut novel, Last of the Independents, won an Arthur Ellis Award and the Kobo Emerging Writer Prize, and was nominated for a Shamus Award. His stories have appeared in Thuglit, subTerrain, and Criminal Element's The Malfeasance Occasional e-collection, among others. He lives in Vancouver.
Praise For Invisible Dead (A PI Dave Wakeland Novel #1)…
"Witty, smart, detailed, and highly entertaining, Wiebe has a gift for place and character."
—Steve Berry, New York Times bestselling author


"Wiebe illustrates the law of the jungle here, and he does it with great narrative skill and some very cool dialogue."—Booklist

"The enigmatic, intriguing tough guy at its center and gritty local color . . . deliver a message about Vancouver's vulnerable female sex workers."
—Publishers Weekly


"Moody, atmospheric, gray, and pensive . . . this is what being a P.I. is like. No glamour, girls, and glitz. Just hardnosed reality in all its gloom and glory."
—Great Mysteries and Thrillers


"Traditional private investigators such as Sam Spade win our respect. Dave Wakeland gets our affection . . . A story as appealing as it is mysterious."—Toronto Star

"Haven't yet heard of Sam Wiebe? You will soon . . . Lots of personal demons and good backstories give this novel heft. Wiebe is definitely a writer on the rise."—The Globe and Mail

"Sharp and terrific . . . A harrowing, superbly puzzling, and richly cinematic tale."—The Vancouver Sun

"Wiebe's writing is very fine . . . keeping us hooked long enough to reach a madly exciting payoff in an ending that can't be put down."
—Jules Brenner's Critical Mystery Tour


"Noir detective Dave Wakeland is exasperating and appealing in equal measures. And of course, burdened by a keen moral compass and a dangerous curiosity about things. The writing is crisp and pleasing. The plot is engrossing, with a nice array of suspects and red herrings. Vancouver is well-described, giving the book a sense of place and making the city almost a character in the book."
—Mac's Backs


"A gripping, wrenching, brilliant piece of fiction, quite possibly the definitive Vancouver crime novel."
—Owen Laukkanen, author of The Professionals


"Polished and nuanced . . . The detective novel is alive and well, and it might've just found its new generation flagship author."
—Dead End Follies

or
Not Currently Available for Direct Purchase