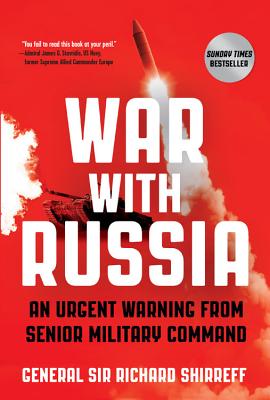 War with Russia (Paperback)
An Urgent Warning from Senior Military Command
Quercus, 9781681441382, 400pp.
Publication Date: October 4, 2016
* Individual store prices may vary.
Description
The rapid rise in Russia's power over the course of the last ten years has been matched by a stunning lack of international diplomacy on the part of its president, Vladimir Putin. One consequence of this, when combined with Europe's rapidly shifting geopolitics, is that the West is on a possible path toward nuclear war. Former deputy commander of NATO General Sir Richard Shirreff speaks out about this very real peril in this call to arms, a novel that is a barely disguised version of the truth. In chilling prose, it warns allied powers and the world at large that we risk catastrophic nuclear conflict if we fail to contain Russia's increasingly hostile actions.

In a detailed plotline that draws upon Shirreff's years of experience in tactical military strategy, Shirreff lays out the most probable course of action Russia will take to expand its influence, predicting that it will begin with an invasion of the Baltic states. And with GOP presidential candidate Donald Trump recently declaring that he might not come to the aid of these NATO member nations were he to become president, the threat of an all-consuming global conflict is clearer than ever.

This critical, chilling fictional look at our current geopolitical landscape, written by a top NATO commander, is both timely and necessary-a must-read for any fan of realistic military thrillers as well as all concerned citizens.
About the Author
General Sir Richard Shirreff KCB, CBE is a senior British Army officer. From March 2011 to March 2014, he served as NATO's Deputy Supreme Allied Commander Europe. Educated at Oxford University, Shirreff rose quickly through the ranks of the British Army during the course of his 37-year career as an international leader and commander. He is a speaker, consultant, and advisor on issues of international politics and military strategy.
Praise For War with Russia: An Urgent Warning from Senior Military Command…
Sunday Times Bestseller!


"You fail to read this book at your peril."
—Admiral James G Stavridis, US Navy, former Supreme Allied Commander Europe.


"A good and authentic, if gloomy, read . . . reminiscent of Tom Clancy's The Hunt for Red October and the excellent The Third World War: August 1985 by General John Hackett."
—Ian Shields, CNN


"A rare work of fiction [that] warns of the rising risk of military conflict with Russia, and lays out a wholly plausible scenario by which it could happen quite soon . . . Shirreff's message is one that we ignore at our own peril."—Mark Buchanan, Bloomberg View


"Unsettling . . . [Shirreff] likens today's Mother Russia to Germany in the late 1930s, when it seized the Sudetenland in brazen contravention of established borders."
—Alexander Nazaryan, Newsweek


"Will war come to Europe? In some important ways it already has--with the annexation of Crimea and the invasion of eastern Ukraine by Putin's Russia sending ominous signals that the use of military force may once again be possible in Europe. General Sir Richard Shirreff sends a much-needed, timely warning of what may befall us if we don't act swiftly to bolster our defenses and strengthen our Alliances. Our leaders must heed his message. Time is of the essence."—Ivo H. Daalder, Former US Ambassador to NATO and President of the Chicago Council on Global Affairs

"A must read for anyone engaged in national security policy. Shirreff's warnings-veiled as fiction-ring with authenticity, rich in technical details and insight."—General Wesley K. Clark, US Army, former Supreme Allied Commander Europe

"as a predictor of what the near future might look like and how NATO and the individual countries within need to prepare themselves General Shirreff hits the bull's eye and hits it hard"—Major James King, Modern War Institute at West Point
or
Not Currently Available for Direct Purchase