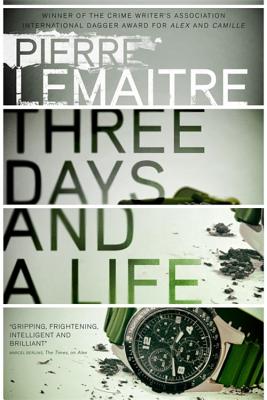 Three Days and a Life (Hardcover)
MacLehose Press, 9781681441788, 208pp.
Publication Date: November 7, 2017
* Individual store prices may vary.
Description
In 1999, in the small provincial town of Beauval, France, twelve-year-old Antoine Courtin accidentally kills a young neighbor boy in the woods near his home. Panicked, he conceals the body and to his relief--and ongoing shame--he is never suspected of any connection to the child's disappearance.
But the boy's death continues to haunt him, shaping his life in unseen ways. More than a decade later, Antoine is living in Paris, now a young doctor with a fiancée and a promising future. On a rare trip home to the town he hates and fears, Antoine thoughtlessly sleeps with a beautiful young woman from his past. She shows up pregnant at his doorstep in Paris a few months later, insisting that they marry.

Meanwhile, the newly discovered body of Antoine's childhood victim means that the case has been reopened, and all of his old fears rush back. With the gravitational pull of his hometown strengthening its grip, Antoine may finally be forced to confront his past. Is he prepared to do what he must to keep his darkest secrets buried?

About the Author
Pierre Lemaitre has won several literary awards, including the prestigious Prix Goncourt, for his novel Au revoir là-haut, published in English as
The Great Swindle. He also won the Crime Writers' Association International Dagger twice, for Alex and Camille, two books in his breakthrough crime trilogy featuring Commandant Camille Verhoeven.
Praise For Three Days and a Life…
Longlisted for the CWA International Dagger Award, 2018
"French crime maestro Pierre Lemaitre continues his upward movement in
Three Days and a Life
. . . This is literary crime writing of some distinction: a heady melange of Aldous Huxley and Robert Goddard."—
The Guardian
"Lemaitre may be the best current French writer of crime fiction."
—
Financial Times
"Thought-provoking and unsettling,
Three Days And A Life
is another work of genius from a master storyteller at the top of his game."—
The Daily Express
"Lemaitre is a skillful writer, employing his words carefully to sketch Antoine's feelings and fears so fervently that we desperately want to protect the child. Wonderful at creating grey protagonists, Lemaitre captures human frailty and reality, while simultaneously questioning our moral certainties."
—
Times of India
"No one is writing quirkier thrillers than Lemaitre, who gets inside the head of his unhinged protagonist with wicked delight while capturing the madness of the modern world. French favorite Lemaitre's novel, about a preteen on whom fortune smiles in the most devious ways after he accidentally kills a little boy, is a feverish, wickedly entertaining work."
—
Kirkus Reviews

"
Three Days and a Life
is excellent: A heartbreaking and masterful portrait of a man's life, marked by a childhood mistake."
—
Crime by the Book
"Lemaitre has outdone himself. If you like great psychological novels,
Three Days and a Life
should be on your nightstand. Read it, savor, and read it again."
—
Andrew Gulli,
Strand Magazine
"Lemaitre is surely France's most elegant and imaginative crime writer."—
The Times
"Taut character study and a vivid portrayal of an isolated community."—
France Magazine
"[
Three Days and a Life
] tells a tale of murder and how the great loss of a small boy can affect a whole village . . . You will feel disdain for Antoine's determination to never reveal his hasty act that caused a death. Also, you'll breathe a sign of admiration over his bold look on life."
—
Book Loons
"Lemaitre magnificently manipulates the readers' compassions and succeeds in dropping several remarkable plot twists that surprisingly help alter the initial events.
Three Days and a Life
is a heartbreaking and darkly disturbing psychological page-turner written with simplicity and creativity."
—
New York Journal of Books
"An intense, character-driven tale about how guilt over one senseless act can impact the rest of your life."
—
Always with a Book
"A complex experiment in the social infrastructure of a small French town, right and wrong, and the rawness of the family unit . . . A great book that generates a lot of thought-provoking questions."
—
Daily Republic
"
Three Days and a Life
was a fun, fast suspense novel that I very much enjoyed. I would definitely read more books by Pierre Lemaitre, who is known for getting into the minds of killers. That's exactly what he did with young Antoine, leaving the reader with a killer you couldn't help but care about."—
Novel Visits
or
Not Currently Available for Direct Purchase