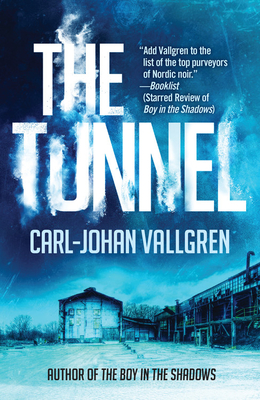 The Tunnel (A Danny Katz Thriller #2) (Hardcover)
Quercus, 9781681441870, 336pp.
Publication Date: June 6, 2017
Other Editions of This Title:
Paperback (7/10/2018)
* Individual store prices may vary.
Description
Once a promising military intelligence officer and high-functioning heroin addict, Danny Katz now uses his gifts as a linguist and computer programmer in his work as a private investigator. His drug habit ultimately derailed his earlier career, but now he is clean-and self-employed. In short, Katz is used to his fair share of suffering and all too familiar with Stockholm's seedy underbelly.

When his former drug dealer, Ramón, dies from an apparent overdose and Ramón's girlfriend, Jenny, disappears without a trace, Katz suspects that something is amiss. He decides to investigate, enlisting the help of prosecutor Eva Westin (another ex-junkie from his past) to find the missing young woman. It isn't long before the line between Katz's current and former lives begins to blur, raising many questions about his own troubled youth.

Katz's inquiries lead him to the darkest corners of Stockholm's black market, including its porn industry, and he quickly finds his old addiction threatening to reassert its grip on his life. It also becomes clear that someone is willing to do whatever it takes to keep him from discovering the answers to his questions. Will Katz be able to master his personal demons and discover the truth behind Ramón's death and Jenny's disappearance before the city's netherworld once again claims him as its own?
About the Author
Carl-Johan Vallgren is one of Sweden's most popular writers and musicians. He has been awarded the prestigious August Prize for Best Novel of the Year, and his work has been translated into 25 languages. This is the second book featuring computer genius and troubled drug addict Danny Katz, after The Boy in the Shadows.

Praise For The Tunnel (A Danny Katz Thriller #2)…
"Carl-Johan Vallgren's ingeniously plotted
The Tunnel
is gritty and gruesome...These storylines and their resolutions skillfully merge in an exciting
denouement. There is also a plot twist that will make readers want to
catch up with Vallgren's first, recently reprinted, Danny Katz murder
mystery,
The Boy in the Shadows
.—
Hadassah Magazine
"Searing . . . Katz, a former military intelligence officer who was once a heroin addict, [encounters] such ugly aspects of contemporary Sweden as rampant cross-border financial crimes, large-scale police corruption, the rising specter of neo-Nazism, and a thriving sex trade."—
Publishers Weekly (Starred Review)
"[Carl-Johan Vallgren] is also a master of the poetry of violence--a stabbing is described as "a thin slice of concentrated heat"--and he captures the experience of a heroin fix as vividly as perhaps, anyone has . . . Truly memorable."
—
Booklist
"In this follow-up thriller, beautifully translated, [ex-junkie polyglot Danny Katz] undertakes to find his former drug supplier, Ramón, and Ramón's girlfriend, both of whom have disappeared . . . Powerful."
—
Theodore Feit, Spinetingler Magazine
"The violence and drug scenes are graphically haunting, the pace is frenetic, and the terror palpable . . . Gripping Scandinavian noir."—
Library Journal
"[Vallgren] shows that people are neither good or bad, but likely right in the middle. And that is the attraction. Placing yourself in the shoes of criminals, investigators, and informants."
—
Great Mysteries & Thrillers
"If Hieronymus Bosch had been a writer instead of a painter, this is the novel he might have written.
The Tunnel
by Carl-Johan Vallgren rips away the façade of civilized behavior to reveal the foul underbelly of Swedish society . . . suspenseful, gritty, and well-plotted."—
New York Journal of Books
"Vallgren's story hits hard, aiming for the pitch inside the psyche of anyone who has spent time in the darkness, either literally or psychologically. In a country that appears as a storybook vacation for those who have watched the Northern lights, the quaint harbors, fjords, mountainsides . . . Sweden has another side to it. Stockholm carries with it horrors that many have difficulty imagining . . . Vallgren's nightmarish visions feel natural on the page."
—
Cemetery Dance
Praise for The Boy in the Shadows
"Impressive . . . grittiness abounds till we reach the pinnacle--a deliciously scary, bloodthirsty climax I defy anyone to read without all the lights on."—
The Bookbag
"With his chilly, foreboding style, Vallgren recalls other Scandinavian mystery writers. But as exemplified by Katz's Jewish background and other details, the book departs the mainstream so strongly defined by
The Girl with the Dragon Tattoo.
A thriller with an offbeat, personal edge."
—
Kirkus
"A brilliant debut thriller: well-written, thought-provoking, smart and terrifying."—
Dagens Naeringsliv (Norway)
"An impressive debut in the crime genre, written in a style as spectacular as Lars Kepler's books."—
Dagens Nyheter (Sweden)
or
Not Currently Available for Direct Purchase