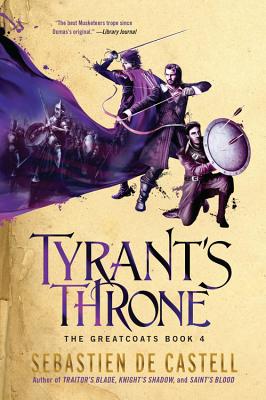 Tyrant's Throne (The Greatcoats #4)
Hardcover

* Individual store prices may vary.
Other Editions of This Title:
Paperback (5/1/2018)
MP3 CD (3/6/2018)
Compact Disc (3/6/2018)
Hardcover (4/20/2017)
Paperback (5/1/2018)
Description
After years of struggle and sacrifice, Falcio val Mond, First Cantor of the Greatcoats, is on the brink of fulfilling his dead king's dream: Aline, the king's daughter, is about to take the throne and restore the rule of law once and for all.

But for the Greatcoats, nothing is ever that simple. In the neighboring country of Avares, an enigmatic new warlord is uniting the barbarian armies that have long plagued Tristia's borders--and even worse, he is rumored to have a new ally: Trin, who's twice tried to kill Aline to claim the throne of Tristia for herself. With the armies of Avares at her back, led by a bloodthirsty warrior, she'll be unstoppable.

Falcio, Kest, and Brasti race north to stop her, but in those cold and treacherous climes they discover something altogether different, and far more dangerous: a new player is planning to take the throne of Tristia, and with a sense of dread the three friends realize that the Greatcoats, for all their skill, may not be able to stop him.

As the nobles of Tristia and even the Greatcoats themselves fight over who should rule, the Warlord of Avares threatens to invade. With so many powerful contenders vying for power, it will fall to Falcio to render the one verdict he cannot bring himself to utter, much less enforce. Should he help crown the young woman he vowed to put on the throne, or uphold the laws he swore to serve?
Praise For Tyrant's Throne (The Greatcoats #4)…
"Once again de Castell has raised the stakes of his series with a fantastic new villain, and he has pulled together the threads of his past four books to create a very memorable conclusion. Tyrant's Throne has everything you love about the previous books; heartbreaking moments, laugh out loud humor, a loveable/hateable cast of characters, a fascinating world, and a fantastic author's voice."
—The Quill to Live

"This final adventure had heartache and loss, but also ended on that most uplifting and enduring of human conditions: hope. It is a beautiful ending to a fabulous series that ranges from swashbuckling fun to deep philosophical ponderations."
—A Fantastical Librarian

Praise for Tyrant's Throne
"I've heard that final books in a series are notoriously difficult to pull off, but dammit, [de Castell] makes it look so easy. Everything I love about the previous novels can be found once again in this one, including the epic action, laugh-out-loud humor, daring heroics, and inspiring gallantry. No one can make me flip between nail-biting despair and giddy fist-pumping exuberance that way de Castell can, sending my pulse racing with every high-stakes plot development. The story is compelling and intense, featuring relentless pacing and an extraordinarily rich cast. All the characters I love (along with some dazzling new faces!) are back as well, ready to kick some ass and take some names, making Tyrant's Throne a finale to remember."
—Bibliosanctum

"As heroic/tragic character arcs go, I am not sure there's a better one anywhere in epic fantasy today . . . I hesitate to use the word 'perfect' but this is about as close as epic fantasy gets to that plateau. Character arcs, storytelling, world building, mythology, conflicts, and relationships--it all comes together in a brilliantly satisfying finale of fiction that keeps going right to the very last page."
— Beauty in Ruins

"Three rousing cheers and a massive huzzah for this final installment of the Greatcoats saga. Blades flash, arrows fly, trysts are made and broken as the story rises to a thrilling climax."—Jamie Buxton, Daily Mail

"This series deserves just as much credit, praise, and adoration, if not more so, than The Kingkiller Chronicle, A Song of Ice and Fire, Mistborn, and all the other popular high fantasy that is loved and celebrated."
—Mel to the Any

Praise for Saint's Blood
"If you enjoy fast-paced, edge-of-your-seat adventure and compelling, believable characters battling overwhelming odds yet never giving in, you can't beat the Greatcoats series. To read them is to love them." —The Oklahoman

"This is a great series, that gets better with each book, while Traitor's Blade was good, an impressive debut and decent start to the series, Knight's Shadow improved on it in every way and with Saint's Blood de Castell has managed yet again to top his previous book by creating what will surely be one of the best fantasy books of the year. You're pulled in from the first page through to the last in this fast paced, character driven epic where come the final page you are left wanting more!"—Tattooed Book Geek

"I can't say enough good things about Saint's Blood. The camaraderie between Falcio, Kest, and Brasti was as strong as ever. They are like three brothers who talk, joke, bluff, and fight their way through the worst of scenarios. Saint's Blood was really an enjoyable sequel full of hope and action."—Shelf Inflicted

Praise for Knight's Shadow
"I had an amazing time with this book. Greatcoats is now up there on my list of favorite fantasy series."—Bibliosanctum

"Knight's Shadow truly is a must-read book . . . the kind of historical fantasy that makes everything else pale in comparison."—Beauty in Ruins

"The fantastic dialogue, the humor, the twists and the exhilarating action all make this a worthy sequel to Traitor's Blade. It has certainly proven that de Castell is not a one-hit wonder."—Draumr Kopa Blog

"The shocking ending left my completely stunned . . . Knight's Shadow is the best book I have read this year so far and I'm not sure anything coming out this year can hope to top it!"—The Arched Doorway

"How wonderful it is to be back into this world . . . wildly entertaining . . . Greatcoats is now up there on my list of favorite fantasy series, and I never miss a chance to recommend it to my fellow readers and friends."—Bibliosanctum

"[Knight's Shadow] will blow you away . . . Sebastien de Castell has really, really outdone himself. . . I probably will have to wait another year for the third book in the series but it is definitely worth the wait. The Greatcoats series should be on every reading list."—The Book Plank

"Traitor's Blade was one of the most enjoyable fantasy debuts of the last year . . . both stem from a time when fantasy was just plain fun and promised quests and excitement, when you opened a book expecting to be entertained . . . It's easy to love de Castell's work . . . readable fantasy at its finest."—Upcoming 4me

"This is fast, fantastic fun--and it has an excellent character piece wrapped inside it . . . a great read, and very much a worthy sequel."—Sci-Fi and Fantasy Reviews

"Ends on a satisfying conclusion that nevertheless leaves room for the story to continue in Saint's Blood."—Starburst Magazine

"Balances humour and gravitas brilliantly, and Falcio Val Mond is sure to win many hearts as a relatable protagonist."—Speculating on SpecFic

"The plot moves quickly with many action scenes that it feels like it belongs on the big screen. There is never a dull moment and the twists will keep you guessing until the very end. This is a strong first novel and the series is sure to keep the adventure going."—Hypable

"[De Castell is] a witty storyteller, sometimes thoughtful in the most heartbreaking ways, and the banter between the three friends is reminiscent of the playful antics I have always loved about the Three Musketeers. de Castell drew me effortlessly into a tale I did not want to put down. . . a full-fledged 5 stars."—Jennifer Melzer

"A gripping plot . . . I was utterly fascinated by the female characters in the book . . . written with vivid narration and humor. It made me laugh out loud and it made me shed an occasional tear. It dragged me right in to the world of Tristia. Traitor's Blade is a great book and I'm already looking forward to reading the next in the series."—Fantasy Fiction

"Is Traitor's Blade destined to be a classic? Well, that's a kind of question I ask myself about books I can get some distance from. I don't want any distance from this book. What I want, just as soon as I finish writing this review, it to read Traitor's Blade again, immediately. And maybe once more right after that."—Black Gate

"Traitor's Blade is the first new fantasy of 2014 that met and even exceeded my expectations."—Fantasy Book Critic

"If this isn't your most anticipated debut novel of 2014, then you're doing it wrong. Traitor's Blademay well end up going down as one of the strongest first fantasy novels of recent times--it's an absolute stunner that you can't afford to miss."—Bane of Kings

"Traitor's Blade never falters, with writing as smooth and decisive as a rapier's swish through the air and a story as passionate as life itself. I can't wait to read more about these wonderful characters. Highly recommended!"—Julie E. Czerneda, author of A Turn of Light

Praise for Traitor's Blade
"In Traitor's Blade, Sebastien de Castell combines the best of Joe Abercrombie and Alexandre Dumas. He can break your heart and spike your adrenaline with the same sentence. Riveting."—Violette Malan, author of Path of the Sun and The Storm Witch

"In short, I loved loved loved Traitor's Blade. I would recommend it to everyone . . . Seriously, this is one excellent and remarkably entertaining book! Read it."—Bibliosanctum

"Like a master-crafted rapier, Traitor's Blade is perfectly balanced, sharp and to the point. Very highly recommended, this is a must read."—Civilian Reader

"Some books you can't put down. This one won't even let you try; it whirls you along in a wild dance of fights, treachery, and jaw-dropping surprises."—Dave Duncan, author of King of Swords

"Traitor's Blade is a swashbuckling romp packed with charisma, camaraderie, quick wit and even quicker swordplay. That said, it's far from candy-coated - and it packs some serious substance . . . darkness is served up deliciously in Traitor's Blade--only de Castell uses it as the sauce, not the soup . . . What makes the book truly sing, though, is its rich historical backdrop . . . De Castell's fight scenes are as sumptuously detailed as the world Falcio inhabits. . . In its own way, Traitor's Blade is as grim and dark as the edgiest fantasy series on the shelves. It's also shot through with heroics, hope and a dazzling aptitude for fun."—Jason Heller, NPR

"Like the sword its disgraced protagonist carries, Traitor's Blade is short and sharp and smart, and very well wielded, really . . . With a tip of his hat at Alexandre Dumas, Sebastien de Castell make a fine first impression in this entertaining debut."—Tor

"The best Musketeers trope since Dumas's original . . . Fights are well-thought out as de Castell is a former "fight choreographer" (I dare you to put that on your tax return). Fighting, swordplay, and escaping from same form most of the action alongside ten kinds of witty banter, bravado and brio- make no mistake, this is a fun read. The light tone is challenged by ruthless villains, especially Duchess Patriana who, though truly repugnant, is as notably well-constructed as other female characters. An energetic, fun adventure that puts the "musk" back in "musketeer." Guaranteed to increase household swashbuckling by 100%."—Library Journal

"Is Traitor's Blade destined to be a classic? Well, that's a kind of question I ask myself about books I can get some distance from. I don't want any distance from this book. What I want, just as soon as I finish writing this review, it to read Traitor's Blade again, immediately. And maybe once more right after that."—Black Gate

"A gripping read with genuine emotion and excitement . . . It's written in first person form the point of view of Falcio, one of three rapier-wielding servants of the king from an elite military group. The trio get in and out of scrapes while a larger scenario unfolds, interwoven with flashbacks to fill in our hero's past . . . A great read."—Mark Lawrence, bestselling author of The Red Queen's War and The Emperor of Thorns series

"This book goes back to the basics: nothing magical or supernatural and the story is better for it. The straightforward adventure is a fitting end to a thrilling series."—Susan Coventry, Netgalley
Jo Fletcher Books, 9781681441955, 400pp.
Publication Date: June 6, 2017
About the Author
Sebastien de Castell had just finished a degree in archaeology when he started work on his first dig. Four hours later he realized how much he hated archaeology and left to pursue a very focused career as a musician, ombudsman, interaction designer, fight choreographer, teacher, project manager, actor, and product strategist. He lives in Vancouver, Canada with his wife.
or
Not Currently Available for Direct Purchase