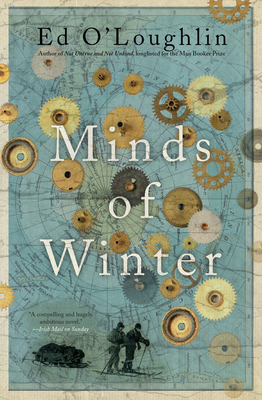 Minds of Winter
Hardcover

* Individual store prices may vary.
Other Editions of This Title:
Paperback (1/23/2018)
Description
In a journey shrouded in mystery and intrigue, Sir John Franklin's 1845 campaign in search of the Northwest Passage ended in tragedy. All 129 men were lost to the ice, and nothing from the expedition was retrieved, including two rare and valuable Greenwich chronometers. When one of the chronometers appears a century and a half later in London, in pristine condition and crudely disguised as a Victorian carriage clock, new questions arise about what really happened on that expedition--and the fates of the men involved.

When Nelson Nilsson, an aimless drifter from Alberta, finds himself in Canada's Northern Territories in search of his brother, he meets Fay Morgan by chance. Fay has just arrived from London, hoping to find answers to her burning questions about her past. When they discover that their questions about their pasts and present are inextricably linked, the two will become unlikely partners as they unravel a mystery that traverses continents and centuries.

In a narrative that crosses time and space, O'Loughlin delves deep into the history of Franklin's expedition through the eyes of the explorers themselves, addressing questions that have intrigued historians and readers for centuries. What motivated these men to strike out on dangerous campaigns in search of the unknown? What was at stake for them, and for those they left behind? And when things went wrong--things that couldn't be shared--what would they do to protect themselves and their discoveries?

Praise For Minds of Winter…
"An ambitious undertaking, operating in several time frames, with the present action interrupted frequently by episodes taking place from 1845 well into the mid twentieth century. Real historic personages (e.g., Roald Amundsen and Jack London) are intermixed with fictional characters...An impressive work."
—
John Teel, PCA Mystery and Detective Fiction Reading List
Shortlisted for the Scotiabank Giller Prize, 2017
Longlisted for the Walter Scott Prize for Historical Fiction, 2017
"The novel is a tapestry of time and place, a study of human nature, and a celebration of exploration and adventure."—
Booklist (Starred Review)
"A complex tale of historical intrigue about nineteenth-century polar explorers, the strange disappearance of Sir John Franklin's Arctic expedition in 1845, and the unexpected discovery of key evidence relating to the disappearance in 2009 . . . The historical depictions of polar explorers--the men, conditions, and horrible fates--are accurate and stunning."—
Publishers Weekly
"O'Loughlin's ability to quantify the magnetism of Arctic exploration, the mentality of those who heed its icy siren song, and his amusing play with literary styles/tastes."—
Historical Novel Review
"A tour de force juggling act of narrative legerdemain." -
Kirkus Reviews
"Readers who delight
in history and mystery mixed together will appreciate O'Loughlin's shifting
drifts of reality and imagination."—
Library Journal (Starred Review)
"An exhilarating romp through the age of polar exploration . . .
Minds of Winter
is a story of death and glory, loss and triumph, and, ultimately, the mighty power of the imagination in the face of unrelenting struggle."—
Winnipeg Free Press
"A richly researched fictional exploration of the history of arctic exploration."—
The Toronto Star
"The scope is truly epic, taking us literally from pole to pole and covering 175 years of history."—
Quill and Quire
"
Minds of Winter
is a remarkable feat of imagination, empathy, and research. Past and present merge to convey the polar landscape's immense mysteries, and the lives of those voyagers compelled to seek answers in its icy expanses. Ed O'Loughlin is a skilled cartographer of both the Arctic and the human heart. What a magnificent novel."—
Ron Rash, New York Times best-selling author
"O'Loughlin's novel is a hymn to human endurance. There will be few better historical novels published this year."—
The Sunday Times of London
"For those interested in the obsessions of polar exploration, this is a compelling and suitably idiosyncratic voyage into its strange motivations."—
The Australian
"Intricately structured."—
Times Literary Supplement
"A compelling and hugely ambitious novel."
—
Irish Mail on Sunday

"Gripping . . . O'Loughlin is operating at the interstices of truth and history, of that which can be known and that which cannot . . . The final pages seem inevitable, as great endings must; the whole novel wondrous in its tone and reach."
—
Eoin McNamee, The Irish Times

"A book that gets you down to the marrow. The compass of Ed O'Loughlin's
Minds of Winter
points north by northnorth. Up and up it goes, drawn by husky dogs towards the North Pole, chillier and chillier by degrees, frostbitten, snow-blind, but determined . . . Thrilling,
Boys' Own
, Hornblower stuff."
—
Laura Freeman, Spectator

"
Minds of Winter
is an ambitious novel, sweeping in scope, about the golden age of Polar scientific exploration and the motivations behind the men who conquered the lands of everlasting winter. It also provides a historical backdrop to delve into the inner lives of some of the most renowned explorers, such as Roald Amundsen, Sir John Franklin, and Cecil Meares."—
Carmen's Books and Movies
"A novel as wide and daring in its execution as its subject--centuries of mystery, horror and human courage in polar exploration. This rollicking, beautifully written tale ranges from the lost expedition of Sir John Franklin in 1845--with its promise of British heroism mingled with hints of cannibalism--to the expeditions of Roald Amundsen both to the South Pole and the Northwest Passage, with a fascinating dose of Nazi U-boats and Cold War spying. The stories fade out, like so many lives lost in blinding snowdrifts, leaving the mysteries to echo hauntingly in readers' minds, hoping always for a little more."—
The Sunday Times of South Africa
"Author Ed O'Loughlin has masterfully drawn everything together. It takes talent to be able to plot out a mystery and to leave clues and little breadcrumbs for the readers. I would recommend this to folks who enjoy historical mysteries and multiple story lines. If you enjoy Ken Follett, this would be a great one for you. All in all a great read and a truly memorable ending."—
Mountains on the Horizon
"A haunting novel of the Arctic . . . Who knows what might emerge from those regions of the Arctic so cold and dark not even Inuit will venture there? Perhaps it is the ease by which the Arctic can kill you that gives O'Loughlin's novel its force."—
Philip Marchand, The National PostPraise for Not Untrue and Not Unkind


"A graceful writer."—
The Guardian
"Intensely evocative."—
The New York Times
"Eloquent and thoughtful."—
Times Literary Supplement
"The most exciting first novel I have read in many years."—
Anne Enright, Booker Award-winning author of The Gathering

"A simply brilliant debut by an author of great poise and power."—
Tim Butcher, award-winning journalist and author of The Trigger

"A mesmerizing look at what was and what might have been. Highly recommended"—
For the Love of Books
Quercus, 9781681442457, 500pp.
Publication Date: March 7, 2017
About the Author
Ed O'Loughlin was born in Toronto and raised in Ireland. He reported from Africa for the Irish Times and other papers, and was Middle East correspondent for the Sydney Morning Herald and The Age of Melbourne. His first novel, Not Untrue and Not Unkind, was long listed for the 2009 Man Booker Prize. His second novel, Toploader, was published in 2011.
or
Not Currently Available for Direct Purchase