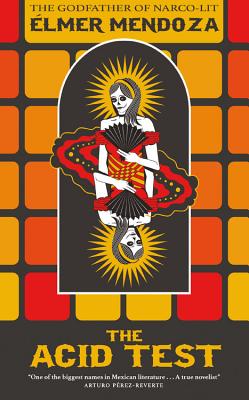 The Acid Test (A Lefty Mendieta Novel #2) (Paperback)
MacLehose Press, 9781681442884
Publication Date: January 31, 2017
* Individual store prices may vary.
Description

When the mutilated body of Mayra Cabral de Melo, a well-known stripper, is found by the side of a dusty road, detective Edgar "Lefty" Mendieta has personal reasons for bringing the culprit to justice. Mayra had no shortage of ardent, deluded, and downright dangerous admirers, and Lefty himself is haunted by one steamy night he spent in her generous company. So begins an investigation that will bring him ever closer to the murderous world of the narcos, who are waging a war of bloody attrition against the Mexican state.

The country is a powder keg, waiting for a spark, and Mendieta is about to enter the darkest days of his life. Corrupt politicians, failed boxers, and unscrupulous arms dealers all lie in wait along the path to justice. But none of this can prepare him for his run-in with the FBI, when the father of the president of the United States is attacked while on vacation in Mexico.

For all these perils it is the weight of his own murky past that Lefty finds hardest to bear. And as he scratches around for clues, faced with a gallery of suspects who all have a motive and none of whom is a stranger to the dark arts of murder, the reappearance of Samantha Valdés, now the boss of the Cartel del Pacífico, adds one more jagged piece to an already unsolvable puzzle.
About the Author
Élmer Mendoza is a literature professor and crime novelist, a formative figure in the genre known as "narco-literature," or narco-lit. Also a dramatist and short story writer, he is best known for his series of detective novels starring detective Edgar "Lefty" Mendieta. The first Lefty Mendieta novel was A Lone Murderer, which immediately garnered praise for its realistic portrayal of Mexico's flourishing narco culture and the ways in which it has shaped Mexican law enforcement and politics. Mendoza has won several literature awards, including the José Fuentes Mares National Literary Prize, for Janis Joplin's Lover, and the prestigious Tusquets Prize, for Silver Bullets. Mendoza lives and writes in Culiacán, Mexico.

Praise For The Acid Test (A Lefty Mendieta Novel #2)…
"Mendoza is a master of narco-literature, a subgenre of crime fiction set in Mexico that puts perspective on how narcotics trafficking has affected the culture and politics of that country."—The Sacramento Bee

"Mendoza is an important Mexican writer."—The Washington Post

"A logical recommendation for admirers of the similarly themed novels of Don Winslow"—Library Journal

"One of the biggest names in Mexican literature . . . A true novelist."—Arturo Pérez-Reverte


"The literary representative of modern-day Mexico in its
narco-incarnation . . . The most important thing that's happened in
Mexican literature in the last thirty years."— Gaby Wood, Sunday Telegraph, on Silver Bullets

"A skillfully written novel."—The Crime Scene, on Silver Bullets

"If you are fed up with formulaic noir novels and looking for something fresher, Élmer Mendoza's dazzling Silver Bullets could be the answer."— John Dugdale, Sunday Times, on Silver Bullets

"Presents Mexico in a darkly surrealist light: corrupt politicos, a
plague of narco-crime and only battered detective Edgar "Lefty" Mendieta
on the side of the angels."—Barry Forshaw, Independent, on Silver Bullets

"Casts a wide net over modern Mexican life and
an array of well-drawn characters, some powerful, some weak, some
depraved . . . Mendoza's creation is nothing like standard pulp
fiction."—Justin Warshaw, Times Literary Supplement, on Silver Bullets
or
Not Currently Available for Direct Purchase