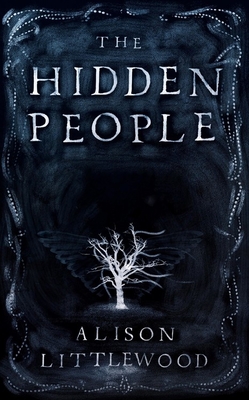 The Hidden People
Hardcover

* Individual store prices may vary.
Description
"an excellent and engaging read, moving to an absorbing conclusion" --Historical Novel Society

"The perfect book to curl up with on a chilly fall day, The Hidden People will make the hairs on the back of your neck stand up." --Booklist

In 1851, within the grand glass arches of London's Crystal Palace, Albie Mirralls meets his cousin Lizzie for the first--and, as it turns out, last--time. Coming from a backward rural village, Albie expects Lizzie will be a simple country girl, but instead he is struck by her inner beauty and by her lovely singing voice.

When next he hears of her, many years later, it is to hear news of her death at the hands of her husband, the village shoemaker.

Rumors surround his young cousin's murder--apparently, her husband thought she had been replaced by one of the "fair folk" and so burned her alive--and then disappeared. Albie becomes obsessed with bringing his young cousin's murderer to justice.

When he arrives, he finds a community in the grip of superstition, nearly every member believes Lizzie's husband acted with the best of intentions and in the service of the village. And the more he learns, the less sure he is that there aren't mysterious powers at work.
Praise For The Hidden People…
"The Hidden People
deftly drops readers into a bygone world where wise women dabble in foretelling the future and sharing herbal concoctions; hobgoblins, changelings and fairies are evident, if you know how to look; and folktales and fantasies can pervade the mind, bringing on delusions and misconceptions that threaten to overwhelm even the most logically minded soul."—
Shelf Awareness
"Expertly creates an atmosphere of unease."—
Kirkus Reviews
"There's an amazing sense of place and time in this novel . . . Littlewood perfectly captures the literary style, attitudes, and class consciousness of Victorian England."
—
Publishers Weekly

"The perfect book to curl up with on a chilly fall day,
The Hidden People
will make the hairs on the back of your neck stand up."
—
Booklist
"The story is narrated in an excellent Victorian voice; Albie's determination to maintain standards of propriety and rationality in the face of the weird events are admirably described in the first person.... an excellent and engaging read, moving to an absorbing conclusion."—
Historical Novel Society
"The story was compelling, the characters interesting and complex, and it was an evocative novel that's going to have a solid place of my bookshelves from now on. Definitely recommended for those who are looking for something beyond typical urban fantasy fare, for those who enjoy historical fiction, and also, for those like me who have a soft spot for genre-breaking fiction that leaves you hungry for more."—
Bibliotropic
"those wanting to observe how subtle psychological horror can be, how the deepest fears can be contained in the smallest of actions, and that the gothic novel is still incredibly powerful even in these modern times, this is the book for them."—
Starburst Magazine
"the story is utterly atmospheric, full of the kind of beautiful, exquisite detail that slowly creeps up on you. Littlewood also writes wonderfully and has a flair for bringing a historical setting to life."—
The Bibliosanctum
"incredibly well thought out and put together... fantastic characters and plot"—
Roadside Reader
Praise for Alison Littlewood

The Bookseller Editor's Choice

"Littlewood's fiction is set in a world where the possible and the improbable rub shoulders, and strange stuff creeps through the gaps in out of the way places. She is the real deal, a writer with a unique vision."—
TTA Press (about Path of Needles)
"[Alison Littlewood's
A Cold Season
] was a career defining masterpiece that exuded chills and almost.... hurt, in a frightening way. Hands down one of the year's greatest novels, it was the perfect debut and the ideal introduction to a welcoming worldwide audience . . . [She] may have had the most impact on the genre this year."—
Matt Molgaard, Horror Novel Review (for A Cold Season)
"[
A Cold Season
] builds a real sense of foreboding and dread, which creates a chilling reading experience for fans of demonic and religious horror."—
Library Journal (for A Cold Season)
"Trails of corpses, not bread crumbs, lead to terror in this captivating, psychologically complex hybrid of magical realism and police procedural . . . Crisp pacing and assured prose lend authenticity to a self-referential thriller that questions our values and the stories that define us."
—
Publishers Weekly (Starred Review, for Path of Needles)
"meticulously imagined"—
Seattle Review of Books
"beautifully atmospheric. It's not so much shock-and-awe jump-scare horror as a slow, creeping buildup of wrongness that she creates by subtly weaving together details"—
SFRevu
Jo Fletcher Books, 9781681442938, 368pp.
Publication Date: November 1, 2016
About the Author
Alison Littlewood is the author of A Cold Season, published by Jo Fletcher Books. The novel was selected for the Richard and Judy Book Club, where it was described as 'perfect reading for a dark winter's night.' Her second novel, Path of Needles, is a dark blend of fairy tales and crime fiction. Alison's short stories have been picked for the Best Horror of the Year and Mammoth Book of Best New Horror anthologies, as well as The Best British Fantasy 2013 and The Mammoth Book of Best British Crime 10. Alison lives in West Yorkshire, England, with her partner Fergus.
or
Not Currently Available for Direct Purchase