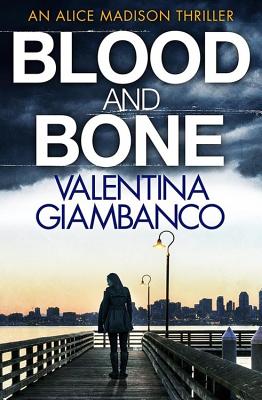 Blood and Bone (An Alice Madison Novel #3) (Hardcover)
Quercus, 9781681442976, 384pp.
Publication Date: January 3, 2017
Other Editions of This Title:
Paperback (12/5/2017)
* Individual store prices may vary.
Description
"intelligent characters, lots of suspense, great setting" --5-Star Reader Review
"I am now officially hooked on this series and can't wait for the next book to come out" --5-Star Reader Review
"just keeps getting better and better!" --5-Star Reader Review
When a local burglary escalates into a gruesome murder, Madison takes charge of the investigation, only to discover that this is no ordinary killing.
After two years as a Seattle Police Department homicide detective, Alice Madison has finally found a measure of peace she has never known before--a sense of belonging
.
Now, Madison finds herself tracking a serial assassin who has haunted the city for years--and whose brutality is the stuff of legend among the super-max prisons of the Pacific Northwest.
As she delves deeper into the case, Madison learns that the widow of one of the victims is being stalked--is the killer poised to strike again? As pressures mount, Madison will stop at nothing to save the next innocent victim . . . even if it means playing a killer's endgame.
About the Author
Valentina Giambanco was born in Italy. After her degree in English and Drama at Goldsmiths, she worked for a classical music retailer and as a bookseller in her local bookshop. She started in films as an editor's apprentice in a 35mm cutting room and since then has worked on many award-winning UK and US pictures, from small independent projects to large studio productions. Valentina lives in London.
Praise For Blood and Bone (An Alice Madison Novel #3)…
Praise for Blood and Bone:


"The detective here is as complex as the crime."
—
Karen Keefe, Booklist
"Giambanco's writing has only gotten better since she launched the Alice Madison series and is especially successful at evoking the city's moodiness"—
Kirkus Reviews
"Realistic twists keep the suspense high, while personal details lend human interest...London-based Giambanco shows an affinity for Seattle, its neighborhoods and environs. Readers will look forward to Madison's further adventures in the next installment."
—
Publishers Weekly

"I love a mystery where the character development is as important to the author as the mystery itself. Giambanco has created a character readers may not always like, but can certainly identify with"—
For the Love of BooksPraise for the Detective Alice Madison novels:
"First-rate . . . V.M. Giambanco is a powerful writer with a strong story to tell."
—
The Times, on The Gift of Darkness

"Giambanco is a name to watch . . . her Madison series will steadily grow in reputation as it expands."—
The Daily Mail, on The Gift of Darkness
"The past is far from forgotten in this sequel to
The Gift of Darkness
. . . A fast-paced thriller that rivals anything I've read this year. Highly recommended."—
For the Love of Books, on The Dark

p.p1 {margin: 0.0px 0.0px 0.0px 0.0px; font: 12.0px 'Helvetica Neue'; color: #454545}
"As twisty and tasty a crime novel as anyone could wish for...this compelling mystery stands out from the crowd."—
p.p1 {margin: 0.0px 0.0px 0.0px 0.0px; text-align: justify; font: 12.0px 'Helvetica Neue'; color: #454545} Daily Mail
p.p1 {margin: 0.0px 0.0px 0.0px 0.0px; text-align: justify; font: 12.0px 'Helvetica Neue'; color: #454545}
"Damn good and addictive stuff"—
Upcoming4Me-Online Literary Blog
p.p1 {margin: 0.0px 0.0px 0.0px 0.0px; text-align: justify; font: 12.0px 'Helvetica Neue'; color: #454545}
"Strongly written, compelling characters"—
The Guardian
or
Not Currently Available for Direct Purchase