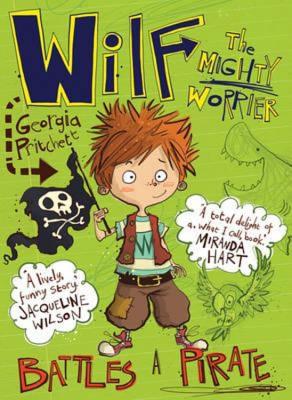 Wilf the Mighty Worrier (Hardcover)
Battles a Pirate
Quercus, 9781681443201, 208pp.
Publication Date: November 1, 2016
* Individual store prices may vary.
Description
Things Wilf was worried about before:

1. Lion dentists.

2. Creepy crawlies wearing wigs.

3. Marmite.

Things Wilf is worried about now:

4. The most evil man in the world.

5. Actually, anyone named Alan.

6. Alan deciding to become a pirate and destroy the world.

Alan is Wilf's self-styled evil lunatic next-door-neighbor. He has a grumpy robot sidekick and a silent, right-hand-dog, Kevin Phillips. All in all, he is kind of ridiculous. But when Alan decides that pirating is an excellent way to destroy the world, Wilf knows he will have to overcome his fear of parrots and walking the plank to stop him . . .

About the Author
Georgia Pritchett is a comedy writer who has written for a number of TV comedies and comedians including The Thick Of It, Veep, Miranda, Have I Got News For You, Smack the Pony, Graham Norton, Jo Brand, Paul Merton, Lenny Henry, Ronnie Corbett, Wallace and Gromit and several other real, fictional and occasionally plasticine people. Wilf the Mighty Worrier is Georgia's first work for children. She lives in London with her husband and two children.
Praise For Wilf the Mighty Worrier: Battles a Pirate…
"Wilf shines as a champion of worriers everywhere."—
Mother Daughter Book Club
"This lively, funny, lovable novel pulls off a rare feat: it lives up to its celebrity endorsement, here from Julia Louis-Dreyfuss"—
The Center for Fiction, Junior Edition
Praise for Wilf the Mighty Worrier
"Wilf The Mighty Worrier could not be more charming or hilarious and I'm not just saying that because I'm a worrier myself who comes from a long line of worriers and wow, I really wish this sentence was shorter. I am saying that because it's true. Georgia Pritchett is a marvelous writer who has written a marvelous book. Period."
—
Julia Louis-Dreyfus
"An enjoyable, laughable, and highly recommended title for any readers ready for a ragtag-style adventure-or anyone who has ducks wielding peanut butter sandwiches on their list of worries."—
School Library Journal
"Thumb firmly on the [laughs] button, Pritchett, a TV comedy writer, pitches her 'stagger blasted' young worrier into one 'kerfuffle' after another. Along with typographical high jinks, the tale features both plenty of comically melodramatic cartoon illustrations and silly drawings that Wilf makes to defuse his many anxieties."—
Kirkus Reviews
"Full of invented words and tangential asides, Pritchett's over-the-top narration pulls readers to and fro as Wilf tries to put aside his many (many) fears to stop Alan and his Big Gun Thingy from destroying the planet. Fans of cracked adventures from the likes of Andy Griffiths and Dav Pilkey will be right at home."—
Publishers Weekly
"It is humor somewhat in the vein of
Captain Underpants
by Dav Pilkey, but with less toilet talk and more genuine affection by the hero Wilf's bizarre little sister, for his best friend and pet, Stuart the woodlouse, and for all the random, sometimes very random, people he meets along the way. I laughed out loud...Highly recommended for young readers, and their older siblings, and especially their parents who get to read along."—
My Comfy Chair