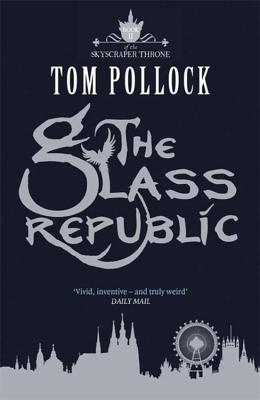 The Glass Republic (Skyscraper Throne #2)
Paperback

* Individual store prices may vary.
Other Editions of This Title:
Compact Disc (10/4/2016)
Compact Disc (5/3/2016)
MP3 CD (10/4/2016)
Compact Disc (5/3/2016)
MP3 CD (5/3/2016)
Description
In the gripping sequel to The City'sSon, Pen returns to London-Under-Glass when her mirror sister - and biggest secret - is abducted. Perfect for fans of Neil Gaiman's Neverwhere.

Pen's life is all about secrets: the secret of the city's spirits, deities and monsters that live just beyond notice, the secret of how she got the intricate scars that disfigure her so cruelly - and the most closely guarded secret of all: Parva, her mirror-sister, forged from her reflection in a school bathroom mirror and the only person who really understands her.When Parva is abducted, Pen is forced to make a terrible bargain for the means to track her down, for in London-Under-Glass, looks are currency, and Pen's scars make her a rare and valuable commodity. Kept company by the pretty and fierce steeplejill, Espel, Pen isn't completely alone, but some in the reflected city will do anything to keep her from the secret of what happened to the sister who shared her face. The Glass Republic is the gripping sequel to The City's Son, and the second book of The Skyscraper Throne trilogy.
Praise For The Glass Republic (Skyscraper Throne #2)…
"Not only was I amazed and fascinated by the world that Pollock creates, a world that is the reflection of the real world (and includes intricate details I wouldn't even think about), but Pollock also created characters that are absolutely unforgettable."—
Between the Shelves
"The Glass Republic
is a magical read which I highly, HIGHLY recommend to fans of urban fantasy, and authors such as Gaiman."—
By Hook Or by Book
"He nails that spot between utterly normal and blood-curdlingly weird perfectly."—
John Courtenay Grimwood
"Tom Pollock has taken a particularly inventive slice [of London] and brought it to life."—
British Fantasy Society on The City's Son
"I can't remember the last time I enjoyed a book as much. Fans of Neil Gaiman's
Neverwhere
will definitely find things to love here; it's dark, it's gritty, it's touching, and it's deeply engrossing. I didn't want it to end."—
Stacia Kane on The City's Son
"Gorgeously written and brimming with bizarre urban creatures, this darkly imagined and sometimes painful tale should delight fans of Neil Gaiman, China Miéville, and Holly Black."
—
Publishers Weekly, starred review on The City's Son

Jo Fletcher Books, 9781681443485, 448pp.
Publication Date: October 4, 2016
About the Author
Tom Pollock is a graduate of the Sussex University Creative Writing Programme. In 2013, The Guardian named him one of the twenty best young novelists in science fiction. He lives and writes in London.

or
Not Currently Available for Direct Purchase