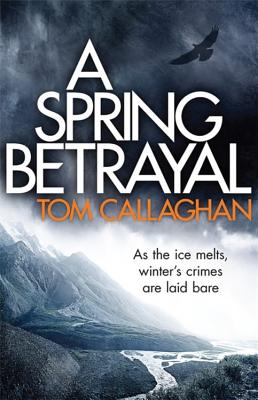 A Spring Betrayal (An Akyl Borubaev novel #2) (Hardcover)
Quercus, 9781681443782, 320pp.
Publication Date: October 4, 2016
* Individual store prices may vary.
Description
We uncovered the last of the bodies in the red hour before dusk, as the sun stained the snowcaps of the Tian Shan mountains the color of dried blood and the spring air turned sharp and cold . . .

Inspector Akyl Borubaev of the Bishkek Murder Squad has been exiled to the far corner of Kyrgyzstan, but death and corruption still haunt him in the remote town where he has been stationed.

Borubaev soon finds himself caught up in a mysterious and gruesome new case: several children's bodies have been found buried together-all tagged with name bands that mark them as orphans, all killed in the same way. In his search for the truth behind the brutal killings, Borubaev hits a wall of silence, with no one to turn to outside his sometime lover, the beautiful and lethal undercover security service agent Saltanat Umarova.

When Borubaev himself is framed for the production of blood-soaked child pornography connected with the case, it looks as though things couldn't get any worse. With the investigation at a dangerous standstill, Borubaev sets out to save his integrity, and to deliver his own savage brand of justice on behalf of the many dead who can't speak for themselves . . .
About the Author
Born in the north of England, Tom Callaghan was educated at the University of York and Vassar College, USA. An inveterate traveller, he divides his time between London, Prague, Dubai and Bishkek.
Praise For A Spring Betrayal (An Akyl Borubaev novel #2)…
"Callaghan combines poetic descriptions and often eloquent prose with an unflinching examination of grisly subjects. Armchair travelers should appreciate not only the riveting plot but the chance to encounter this fascinating country."—
Publishers Weekly
"[An] oddly fascinating novel...the writing and pacing are snappy and compelling in the best hard-boiled American style."—
Booklist
"Get ready to be blown away by this series, Kyrgzstan comes to life like a kind of wild west where anything can, and does go"—
For the Love of Books
Akyl comes across as a very real human being; one with a past, who is dealing with the baggage of a lifetime, one who hopes for better from life but doesn't expect it. Don't start this one late at night. The plot never seems to stop moving; you'll be up far later than you intended!—
CA Reviews
Praise for A Killing Winter
"[
A Killing Winter
] establishes Callaghan as a major new voice in crime fiction with his cut-to-the-bone storytelling and descriptive brilliance. Many secrets remain to be revealed in Kyrgyzstan. Callaghan's debut is a tough, no-frills thriller with a Central Asian setting rife with dark secrets."—
Kirkus Reviews
"Callaghan is a hell of a writer, with a tremendous sense of pace and an arch ear for juicy dialogue and the pages fly by."—
Crime Thriller Fella
"Inspector Akyl Borubaev has world-weariness, sorrow, cynical charm, toughness and brains to spare . . . by the end of
A Killing Winter
you'll be breathless and begging for more."—
Peter Spiegelman, author of Thick As Thieves
"After an effective noir opening, Callaghan's second thriller apes the blunt men's action novels of the 1970s and '80s . . . the provocative chemistry between the hero and his scorned lover-turned-sidekick keeps that action interesting."
—
Kirkus Reviews
or
Not Currently Available for Direct Purchase