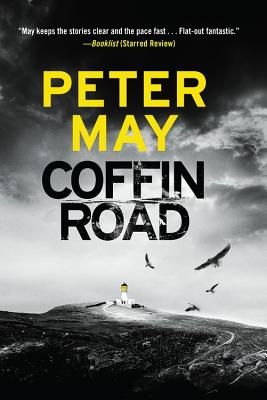 Coffin Road
Hardcover

* Individual store prices may vary.
Other Editions of This Title:
Paperback (11/7/2017)
Paperback (11/7/2017)
Hardcover, Large Print (3/1/2017)
Description
"INTRIGUES FROM START TO FINISH AS THE THREE ARCS INTERTWINE AND RACE TO A FINAL SHOWDOWN." --Shelf Awareness, (Starred Review)

"A WELL-PACED ATMOSPHERIC STORY THAT CATCHES THE READER'S ATTENTION FROM THE OPENING SCENE" --Deadly Pleasures Magazine

On the remote Isle of Harris in Scotland's Outer Hebrides, a man washes up on a deserted beach, hypothermic and completely disoriented. He has no idea who he is or how he got there.
The only clue to his condition is a map of the island showing a desolate, ancient path called the Coffin Road. With a sense of dread and no clear idea what lies at the other end, he knows he must follow the trail if he has any hope of discovering his identity.

Meanwhile, homicide detective George Gunn makes the rough ocean crossing to a remote, sea-battered lighthouse, despite its isolation, the tiny island has seen its share of tragedy: more than a century earlier, three lighthouse keepers disappeared, never to be seen or heard from again. And now there is a new tragedy, and Gunn must figure out what happened.

At the same time, a teenage girl lies in her Edinburgh bedroom, desperate to discover the truth about her father's death. Two years after the discovery of the pioneering scientist's suicide note, Karen Fleming still cannot accept that her father would willingly abandon her. And the more she discovers about the nature of his research, the more she suspects that suicide had nothing to do with it.

Coffin Road follows three perilous journeys towards one shocking truth - and the realization that ignorance can kill us.

Praise For Coffin Road…
"Shades of
The Bourne Identity
abound... A horrific murder at a remote lighthouse and a young teen pursing the truth behind her father's research add heft to a headily complex tale that's part eco-thriller, part ode to familial love."—
Seattle Review of Books
"a well-paced atmospheric story that catches the reader's attention from the opening scene"—
Deadly Pleasures Magazine
"Like Peter May's other Outer Hebridean mysteries,
Coffin Road
is a tense, intriguing mystery set against a broody backdrop that lends an otherworldly eeriness to the story at hand."
—
Bloggin' Bout Books
"May's lyrical prose brings full color to the scenery, and the narrative intrigues from start to finish as the three arcs intertwine and race to a final showdown.
Coffin Road
is an atmospheric thriller that delves into issues of identity, sacrifice and the greater good."—
Shelf Awareness (Starred Review)
"May keeps the stories clear and the pace fast, with the Hebrides atmosphere serving as a wild, unpredictable fourth character. Flat-out fantastic."
—
Booklist
(Starred Review)

"This intense, complex mystery will satisfy especially those who are environmentally conscious, but overall, this is one bang-up read."
—
Library Journal
(Starred Review)

"May evokes his native Scotland as ruggedly dangerous, his well-drawn characters equally so."—
Publishers Weekly
"An eminently satisfying, multilayered mystery populated with sharply drawn characters . . . The many threads of the story play out against a landscape that May, a native Scot, renders vividly. His images capture the capricious play of light and weather across the sea and the moors, matching the surprises in his tale."—
Kirkus Reviews
"An extremely chilling tale. From a man with memory loss, to a young girl dealing with the loss of her father, to a tale of a policeman unmasking the past, readers will have to pay close attention so they don't lose track of the amazing web May has created."—
Suspense Magazine
"May is a master storyteller who deftly weaves the threads into a magnificent tapestry... A stand alone thriller that will grip you from the first page."—
BookPeople, Austin, TX
"Peter May is on a roll . . . [
Coffin Road
] is a clever, twisty eco-thriller in the mode of Le Carré's
The Constant Gardener
."
—
John O'Connell, The Guardian
"A consummately skilled and original storyteller,
Coffin Road
fully showcases novelist Peter May's total mastery of the mystery/suspense genre."—
Midwest Book Review
"An excellent thriller . . . the pace and good writing swept me onwards."
—
Amy Myers, Shots Magazine
"The bestselling [Peter May] returns to the Outer Hebrides . . . Another cracking story from a writer at the height of his powers."
—
Charlotte Heathcote, The Daily Express
"This is a first-rate page turner!"—
John Teel, Marshall University for the Popular Culture AssociationPraise for Peter May
"Peter May is a writer I'd follow to the ends of the earth."
—
Marilyn Stasio, The New York Times
Quercus, 9781681443898, 400pp.
Publication Date: October 4, 2016
About the Author
Peter May has written several standalone novels and three series: the award-winning China Thrillers, featuring Beijing detective Li Yan and American forensic pathologist Margaret Campbell; the critically acclaimed Enzo Files, featuring Scottish forensic scientist Enzo Macleod, set in France; and the Lewis Trilogy (The Blackhouse, The Lewis Man, and The Chessman), all three volumes of which are internationally bestselling novels.

One of Scotland's most prolific television dramatists, May garnered more than 1,000 credits over a decade and a half spent as scriptwriter and editor on prime-time British television. Before quitting TV to concentrate on writing novels, he was the creator of three major series, two of which were the highest rated in Scotland. May lives and writes in France.

Book Videos