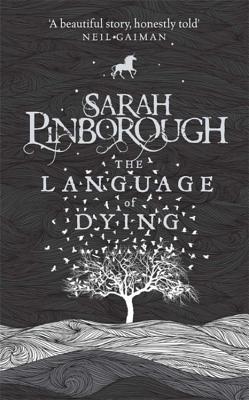 The Language of Dying
Hardcover

* Individual store prices may vary.
Other Editions of This Title:
Hardcover (8/2/2016)
Description
In this emotionally gripping, genre-defying novella from Sarah Pinborough, a woman sits at her father's bedside, watching the clock tick away the last hours of his life. Her brothers and sisters--she is the middle child of five--have all turned up over the past week to pay their last respects. Each is traumatized in his or her own way, and the bonds that unite them to each other are fragile--as fragile perhaps as the old man's health.

With her siblings all gone, back to their self-obsessed lives, she is now alone with the faltering wreck of her father's cancer-ridden body. It is always at times like this when it--the dark and nameless, the impossible, presence that lingers along the fringes of the dark fields beyond the house--comes calling.

As the clock ticks away in the darkness, she can only wait for it to find her, a reunion she both dreads and aches for...
Praise For The Language of Dying…
"A beautiful story, honestly told."—Neil Gaiman

"Pinborough's character dialogue rings with an authenticity that makes the story almost cinematic in its realism . . . the underlying plot is a red-hot wire of conflict as the interactions between characters build to a crescendo of tension and emotions. Anyone who has dealt with the death of a loved one and the false interactions that come with it, will know exactly how the narrator feels as she struggles with feelings of resentment and abandonment."—New York Journal of Books

"Pinborough's novella captures the haunting and mundane vigil as a loved one near death as well as the complexities of how families deal with this tension . . . Moments of strange fantasy make this meditation on loss both unexpected and meaningful."
—Kirkus Reviews


"This short novel is dark and candid, full of conflicting emotions: love, fear, anger, joy. The prose is evocative and moody, making The Language of Dying a perfect novel for those nighttime hours at home when everyone else is fast asleep. The darkness of the storyteller's inner world echoes on every page."—Shelf Awareness

"The Language of Dying is a beautifully crafted, resonant novella, perfectly capturing the horror of watching a person waste away and the guilt of wishing they would hurry up and die. The potentially supernatural element is well-incorporated and leaves the reader in suspense, hinting at the narrator's mental state and allowing the reader to draw their own conclusions about this peculiar family and the thing that lurks just beyond their house. It's a masterful piece of short fiction, and horror fans would do well to add The Language of Dying to their must-read list."—Fantasy Literature

"A beautiful soul-rending song straight from the heart, this tiny little book packs an emotional punch by shifting gears instead to look at the turbulent nature of grief and the profound effects it has on one troubled family."—The BiblioSanctum

"A literary punch to the gut . . . A beautiful novel, short, sharp and
told with painful honesty, which I would say is the product of a writer
at the very top of her game."—Independent

"Pinborough demonstrates the ability to skewer relationships and emotions with precise phrases."—Sci-Fi Bulletin

"Beautifully written for such a difficult subject, the family details are incredible considering the length.. much heavier than one expects from such a slim story and it opened wounds. Well done!"—Bookstalker

"I was deeply moved by the interaction of the narrator with her father as she spoke to him about the family, memories, her life, etc. It was touching and sad. I would recommend this book to anyone as it offers a quick yet insightful and layered reading experience."—Mali Reads

"This is a heartbreaking story and at times very hard to read. But it is well written and moving. This is a quick read but one that you will think of for a long time."—J Bronder Book Reviews

"a deeply personal and heartfelt novella"—Bookreporter

"A beautifully written and powerful story about death and the inescapable bonds of family."—Books, Bones, and Buffy

"beautifully written story that effectively illustrates the power of grief and the indelible mark it leaves on us"—For the Love of Words
Jo Fletcher Books, 9781681444369, 144pp.
Publication Date: August 2, 2016
About the Author
Sarah Pinborough was a teacher, but now writes full-time. She is developing an original horror screenplay, Cracked, and her supernatural crime series, The Dog-Faced Gods, for TV. She has also written episodes for the popular BBC crime drama New Tricks. Her latest book is Behind Her Eyes. She lives in West London.
or
Not Currently Available for Direct Purchase