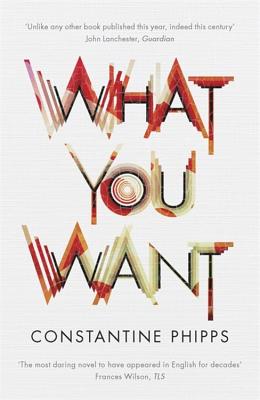 What You Want (Hardcover)
Quercus, 9781681444475, 338pp.
Publication Date: May 3, 2016
* Individual store prices may vary.
Description
Patrick is still in love with his separated wife. Returning with their son after a trip to an amusement park, he begs, one last time, to reconcile with her. When she refuses, he is driven to thoughtless desperation: a bottle of sleeping pills, a bottle of whisky. And in his dying dream, he revisits that theme park of childish desire.

There he finds the landscape - still garish and indulgent - has evolved. The attractions are religion, money and sex. The characters - costumed and acted - are transformed into Jefferson, Xunzi, Aristotle. And their purpose is to instruct Patrick in the pursuit of happiness throughout human history.

But Patrick can only answer with his own story. He remembers falling in love with Louise. Recalls the enlightenment of their youth and the banality of their family life. He tells of their marriage, how it came under strain after the birth of his son; how he cheated; the unravelling of all his joy. Yet still his love persists.

Beginning with the first line of Dante's Divine Comedy and taking in Disneyworld, the Declaration of Independence and the canon of philosophy in its stride, What You Want is a literary feat: a novel written entirely in verse, depicting life in all its ordinariness. It gives voice to a new Everyman and brings forth an unparallelled modern epic.
About the Author
Constantine Phipps was born in Yorkshire and is the author of two previous novels: Careful with the Sharks and Among the Thin Ghosts. For many years he has been involved in property development and has interests in the UK and Canada. He lives in London with his wife, the author Nicola Shulman, and has four children.
Praise For What You Want…
"Unlike any other book published this year, indeed this century ... Dante, adultery, theme parks, psychotherapy - it's all here, but unjokily so, and one of the most moving things about the book is the unusual texture of its melancholy seriousness"—The Guardian

"It is a disquieting story; the writing is honed, as intense as a volume of poems. The author's bravado pays off"—Financial Times

"The most daring novel to have appeared in English for decades ... A Dantesque journey into marriage, theme parks and Freudian theory, it is written in rhyming couplets and needs to be read in sections, preferably aloud, late at night, and in the round"—Times Literary Supplement

"It's an everyday story, but elevated to an epic by the author's extraordinary decision to write the entire thing in rhyming couplets ... Phipps has pulled it off brilliantly; the literary pyrotechnics are a constant delight."—The Times
or
Not Currently Available for Direct Purchase