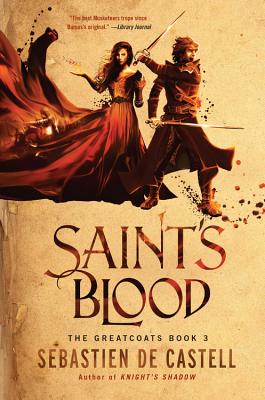 Saint's Blood (The Greatcoats #3) (Hardcover)
Jo Fletcher Books, 9781681444895, 592pp.
Publication Date: June 7, 2016
Other Editions of This Title:
Paperback (3/7/2017)
* Individual store prices may vary.
Description
"TO READ THEM IS TO LOVE THEM" --The Oklahoman

"DE CASTELL HAS MANAGED YET AGAIN TO TOP HIS PREVIOUS BOOK BY CREATING WHAT WILL SURELY BE ONE OF THE BEST FANTASY BOOKS OF THE YEAR." --Tattooed Book Geek

The Greatcoats are back--and this time it's personal.

How do you kill a Saint? Falcio, Kest, and Brasti are about to find out, because someone has figured out a way to do it and they've started with a friend.

The Dukes were already looking for ways out of their agreement to put Aline on the throne, but with the Saints turning up dead, rumors are spreading that the Gods themselves oppose her ascension.

Now churches are looking to protect themselves by bringing back the military orders of religious soldiers, assassins, and (especially) Inquisitors - a move that could turn the country into a theocracy.

The only way Falcio can put a stop to it is by finding the murderer. He has only one clue: a terrifying iron mask which makes the Saints vulnerable by driving them mad. But even if he can find the killer, he'll still have to face him in battle.

And that may be a duel that no swordsman, no matter how skilled, can hope to win.
About the Author
Sebastien de Castell had just finished a degree in Archaeology when he started work on his first dig. Four hours later he realised how much he hated archaeology and left to pursue a very focused career as a musician, ombudsman, interaction designer, fight choreographer, teacher, project manager, actor, and product strategist. He lives in Vancouver, Canada, with his wife.
Praise For Saint's Blood (The Greatcoats #3)…
"If you enjoy fast-paced, edge-of-your-seat adventure and compelling, believable characters battling overwhelming odds yet never giving in, you can't beat the Greatcoats series. To read them is to love them."—
The Oklahoman
"This is a great series, that gets better with each book, while
Traitor's Blade
was good, an impressive debut and decent start to the series,
Knight's Shadow
improved on it in every way and with
Saint's Blood
de Castell has managed yet again to top his previous book by creating what will surely be one of the best fantasy books of the year. You're pulled in from the first page through to the last in this fast paced, character driven epic where come the final page you are left wanting more!"—
Tattooed Book Geek
"I can't say enough good things about
Saint's Blood
. The camaraderie between Falcio, Kest, and Brasti was as strong as ever. They are like three brothers who talk, joke, bluff, and fight their way through the worst of scenarios.
Saint's Blood
was really an enjoyable sequel full of hope and action."
—
Shelf Inflicted
Praise for Knight's Shadow
"I had an amazing time with this book. Greatcoats is now up there on my list of favorite fantasy series"
—
Bibliosanctum
"
Knight's Shadow
truly is a must-read book . . . the kind of historical fantasy that makes everything else pale in comparison."—
Beauty in Ruins
"The fantastic dialogue, the humor, the twists and the exhilarating action all make this a worthy sequel to
Traitor's Blade
. It has certainly proven that de Castell is not a one hit wonder"—
Draumr Kopa Blog
or
Not Currently Available for Direct Purchase