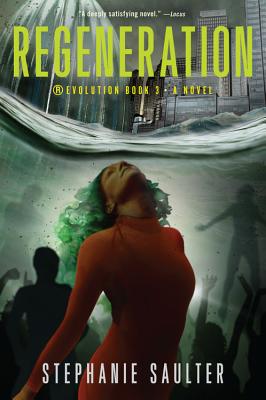 Regeneration ((R)evolution #3)
Hardcover

* Individual store prices may vary.
Description
The Gems--genetically modified humans--are thriving, but fear blackens their efforts, and the return of an old enemy could see their fragile peace destroyed.
The gillungs - waterbreathing, genetically modified humans - are thriving. They've colonized riverbanks and ports long since abandoned to the rising seas and the demand for their high-efficiency technologies is growing fast.

But as demand grows, so do fears about their impact on both norm businesses and the natural environment. Then, a biohazard scare at Sinkat, their colony on the Thames, fuels the opposition and threatens to derail the gillungs' progress. But was it an accident, or was it sabotage?

Detective Sharon Varsi has her suspicions, but her investigations are compromised by family ties. And now there is a new threat: Zavcka Klist is about to be released from prison - and she wants her company back.
Praise For Regeneration ((R)evolution #3)…
"Like all the best science fiction, the ®Evolution series uses its speculative construct to examine aspects of modern life, in this case tolerance and the benefits of multiculturalism."—GeekDad

"Regeneration - the whole series, really - is something best explored for yourself. It's the kind of future that makes you think twice about the things you thought you knew, changes how you look at the world around you, and does so in a way that's phenomenally entertaining and brilliant. The characters are wonderful, the story is compelling, the pacing and development smooth and fascinating; it all comes together as a rich tapestry that draws you in and doesn't let you go easily. The ®Evolution series has left its mark, and its influence will be felt for years to come."—Bibliotropic

"The story's quite interesting and flowed nicely. There were a good number of unexpected twists. . .I was particularly impressed with the last chapter that really rapped up the trilogy well. This is a brilliant series, highly recommended."—SciFi Fan Letter

"fantastic finale to one of the best SF series of the past five years"—A Fantastical Librarian

"if smart, diverse and socially aware science fiction is something you're hungry for, you should definitely be reading her work"—Over the Effing Rainbow

"I've said once before that the ®evolution novels are important, and with the series now complete, I stand by that assertion. Regeneration brings the story of the Gems, of Zavcka Klist, of Aryel Morningstar and of Eli Walker to a conclusion that resonates, and like its title, regenerates. For all of the troubles and challenges that her characters face, and what she throws at the world, the note of hope that comes through the two previous books is amplified in its conclusion. The world never can go back to the way it was, and you wouldn't really want it to if you could. All you can do is to go forward and build a better world with the tools you built yesterday and today. That is as true of our modern world as the future that Saulter posits, and Saulter's future is, in the end, a mirror on our own world, a hopeful one. The ®evolution Trilogy takes that philosophy and brings it to wonderful life."—SF Signal
Jo Fletcher Books, 9781681445175, 336pp.
Publication Date: May 3, 2016
About the Author
Stephanie Saulter writes what she likes to think is literary science fiction. Born in Jamaica, she studied at MIT and spent fifteen years in the USA before moving to the UK in 2003. In 2010 she launched the Scriptopus interactive website for writing short fiction. Stephanie blogs unpredictably at stephaniesaulter.com and tweets slightly more reliably as @scriptopus. She lives in London.
or
Not Currently Available for Direct Purchase