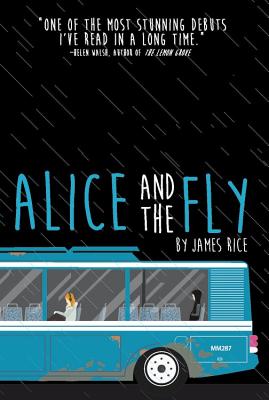 Alice and the Fly
Hardcover

* Individual store prices may vary.
Other Editions of This Title:
Paperback (4/4/2017)
Description
Greg is cripplingly shy, afraid of spiders, and obsessed with Breakfast at Tiffany's. He's not exactly the most popular kid at his high school. In fact, he pretty much goes out of his way to avoid talking to anybody he doesn't have to. And it doesn't help that he has a severe lisp.

But Greg's English teacher, Miss Hayes, can see that there's something different about him. He's insightful and sensitive beyond his years, and maybe--just maybe--he'll use these strengths to break out of his shell someday. Miss Hayes urges Greg to keep a journal. "This isn't an assignment," she tells him, "just write down your thoughts."

Greg begins to write about everything from his mother's ill-conceived interior decorating ideas to his job at the local butcher's shop. When Greg begins to take an interest in a girl at his school named Alice, he realizes that he will have to face his most paralyzing anxieties if he wants to befriend Alice and help her escape from her violent family life.

Praise For Alice and the Fly…
"Debut novelist Rice has turned in an extraordinarily accomplished effort, beautifully plotted and structured, emotionally resonant, and filled with multidimensional characters, especially, of course, Greg, whose condition of being is never less than persuasive -and that will excite a keen empathy from readers. May he have many of them."—
Booklist, Starred Review

''This is a novel about loneliness, and Rice vividly evokes the isolation of all those
trapped inside the need to present a socially valid exterior. His writing is fuelled by a
powerful sense of empathy, even for those whose aspirations he so expertly ridicules.
For all the bleakness it portrays Alice and the Fly is an oddly uplifting novel.''



—
The Guardian

"Alice and the Fly is a darkly quirky story of love, obsession and fear. A disconcerting but
beautiful story hung around the enchanting and heartbreaking voice of teenager Greg."



—
Anna James
,
The Bookseller

''One of the most stunning debuts I've read in a long time. The talent behind it is huge.''





—
Helen Walsh, author of The Lemon Grove
"gives a good insight into the unstable mind of a troubled young man, and I would definitely read more from this author."—
A House of Books
"It's thrilling, gripping, heart-stopping and somehow moving at the same time. This isn't a story for the weak of heart. I'm still blown away that this is actually the author's debut and I'll definitely be checking out whatever he puts out next."—
Quite the Novel Idea
"The novel takes on a disturbing and creepy feeling as it progresses and I couldn't dare put it down."—
Book Likes
"It is no small feat to get into the mind of a disturbed teen. But James Rice does so skillfully in his debut novel . . . Rice propels readers into and beyond J.D. Salinger territory . . . This book may make readers take another look at the misfits among us whom we dismiss at their - and society's - peril."
—
Star Tribune

"the world needs more books like this"—
Silke Reads and Writes
Quercus, 9781681445281, 304pp.
Publication Date: May 3, 2016
About the Author
James Rice lives in Liverpool. In 2011 he completed an MA in Writing at Liverpool John Moores University and has since finished his debut novel, Alice and the Fly-- the first chapter of which won the Writing On The Wall Festival's novel-writing competition Pulp Idol. He also writes short stories, several of which have been published, and writes songs with his friend Josh, which he sings in a very high-pitched voice people have charitably referred to as "unique." He is currently working on his second novel.
or
Not Currently Available for Direct Purchase