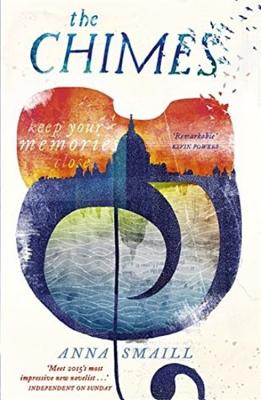 The Chimes
Paperback

* Individual store prices may vary.
Description
"A HIGHLY ORIGINAL DYSTOPIAN MASTERPIECE" --Geraldine Brooks, Pulitzer Prize winning author of March

"FOR ALL THE POETRY AND LYRICISM, THE CHIMES IS A SOLID SUSPENSEFUL ADVENTURE STORY AT HEART" --NPR Books
A mind-expanding literary debut composed of memory, music and imagination.A boy stands on the roadside on his way to London, alone in the rain.No memories, beyond what he can hold in his hands at any given moment.No directions, as written words have long since been forbidden.No parents--just a melody that tugs at him, a thread to follow. A song that says if he can just get to the capital, he may find some answers about what happened to them.The world around Simon sings, each movement a pulse of rhythm, each object weaving its own melody, music ringing in every drop of air.Welcome to the world of The Chimes. Here, life is orchestrated by a vast musical instrument that renders people unable to form new memories. The past is a mystery, each new day feels the same as the last, and before is blasphony.But slowly, inexplicably, Simon is beginning to remember. He emerges from sleep each morning with a pricking feeling, and sense there is something he urgently has to do. In the city Simon meets Lucien, who has a gift for hearing, some secrets of his own, and a theory about the danger lurking in Simon's past. A stunning debut composed of memory, music, love and freedom, The Chimes pulls you into a world that will captivate, enthrall and inspire.
Praise For The Chimes…
"A highly original dystopian masterpiece, an intricately imagined, exquisitely invoked world in which music instills order and ravages individuality . . . Smaill is a poet and a classically trained violinist, and both these skills shine in this lyrical novel steeped in the language of music . . . clearly marking her as an exciting new writer to watch."
—Geraldine Brooks, Pulitzer Prize-winning author of March


"something strikingly new"—Lit Hub

"Smaill's clever use of musical terms in her characters' speech adds to the immersive quality of the work, and her melodious prose lures the reader like a pied piper. With literary trappings but a solidly speculative heart, The Chimes is a cantata of pure delight."—Jaclyn Fulwood, Shelf Awareness (Starred Review)

"Smaill is a classically trained musician - a violinist, to be precise - and it shows on every page of The Chimes. Not only does music saturate the book's setting, it fills its themes and prose . . . For all the poetry and lyricism, The Chimes is a solid, suspenseful adventure story at heart, complete with a quest, a prophecy, and a simmering, deeply moving romance . . . lucid yet dreamlike writing pulls it through. Not to mention her deft, tender characterization . . . [and] profound ideas and images echoing throughout."
—NPR Books


"To call The Chimes striking is, I dare say, to underplay what might be the most distinctive debut of the decade."
—Tor.com

"Cleverly orchestrated and poignantly conveyed throughout."—The Guardian

"One of a kind, both in its dystopian landscape and use of gorgeous language throughout . . . Fans of the eloquence and imagery of Jeff VanderMeer's 'Southern Reach' trilogy and the spare desolation of Cormac McCarthy's The Road will adore this original work."
—Megan McArdle, Library Journal (Starred Review, Debut of the Month)


"A melodic, immersive dystopian tale set in a London where writing is lost and song has replaced story . . . Entrancingly poetic and engagingly plotted, this is a story that brims with heart and soul."
—Kirkus Reviews


"The Chimes is a remarkable debut. It's inventive, beautifully written, and completely absorbing. I highly recommend it."
—Kevin Powers, author of The Yellow Birds


"Atmospheric, intensely-imagined strangeness."—Daily Mail

"One of the top literary novels of the year. Set in a world where music has replaced the written word it's a lyrical, entrancing story which ramps up to a fast-paced finale."
—Elle (UK)

Quercus, 9781681445328, 304pp.
Publication Date: April 4, 2017
About the Author
Anna Smaill is a classically trained violinist and published poet. Born in Auckland in 1979, she holds an MA in Creative Writing from the International Institute of Modern Letters (Wellington), an MA in English Literature from the University of Auckland and a PhD in contemporary American poetry from University College London. She is the author of one book of poetry, The Violinist in Spring, and her poems have been published and anthologized in New Zealand and the United Kingdom. She has lived and worked in both Tokyo and London, and now lives in New Zealand with her husband, novelist Carl Shuker, and their daughter.
or
Not Currently Available for Direct Purchase