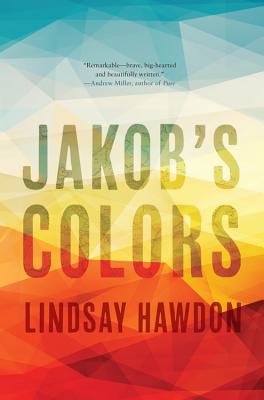 Jakob's Colors (Hardcover)
Quercus, 9781681446158, 320pp.
Publication Date: January 5, 2016
* Individual store prices may vary.
Description
Austria, 1944. Jakob, a gypsy boy--half Roma, half Yenish--runs for his life as he has been told to do. With shoes made of sack cloth--stained with another person's blood--and a stone clutched in one hand, a small wooden box in the other, he runs blindly, full of fear and nearly drained of hope.

He knows when to trust a stranger and when to be wary. He knows how to read the land and the sky--when to seek shelter, when not to. He has grown up following the wind and sticking to the shadows. They are familiar to him. It is the loneliness that is new. He has never, until now, been so alone.

Weaving back and forth in time and place between WWII Austria, Switzerland, and 1920s England to tell the interlinked stories of Jakob, an 8-year-old gypsy boy, his father Yavy, and his English mother Lor, Jakob's Colors is about the painful legacies passed down from one generation to another, finding hope when there is no hope and color where there is no color.

About the Author
Lindsay Hawdon spent three years after university traveling around Europe, Africa, and India, hitching rides and sleeping under canvas. She has since traveled to more than sixty countries and writes regularly for The Sunday Times, The Sunday Telegraph, The Australian, and the LA Times. Her travel column "An Englishwoman Abroad" ran in the Sunday Telegraph for seven years. Her series of articles for The Sunday Times, called "Have Kids Will Travel," followed a year of traveling solo with her two young boys around South East Asia. This is her first novel. She lives in Bath with her family.
Praise For Jakob's Colors…
Longlisted for the Best First Novel Award, 2016
"Memory fuels a boy's passage through wartime Austria."—
The New York Times
"A stirring, finely observed tale that recalls the less fantastical parts of Markus Zusak's
The Book Thief
and deserves its place alongside other notable Holocaust stories."—
Library Journal
"One of the best debuts of the year . . . Hawdon brings a fresh (and heartbreaking) perspective to the Second World War as she follows a family of Romany gypsies."—
Elle (UK)
"A haunting book, dealing with a little-known part of history, told in
luminous and poetic prose."—
Rebecca Mascull, author of The Visitors
"I thought it was a remarkable book--brave, bighearted, and beautifully written. Harrowing too, of course, at times almost unbearably so, but Lindsay Hawdon meets the material with such honesty and courage we, as readers, can stay with it without feeling crushed by it. It's a first novel that clearly announces the arrival of a very talented writer."
—
Andrew Miller, author of Pure
"A compassionate, hopeful heart beats strongly throughout this vivid work of poetic imagination as
Jakob's Colors
journeys across time and space to illuminate a long neglected chapter in the wider tragedy of European history."—
Lindsay Clarke, author of The Chymical Wedding

"This is a book you will remember long after you have finished it."—
Historical Novel Review
"This is a heartbreaking love story . . . Writing with passion and poetry, Lindsay Hawdon brings astonishing color and life to an episode of unremitting darkness and despair. I honestly believe it stands comparison with D.M. Thomas's classic
The White Hotel
."—
Rory Clements, bestselling author of the John Shakespeare spy thrillers
"An impressive, heartfelt debut--a book about the power of stories to sustain us and drive us forward. It reminded me of Patrick Süskind's
Perfume
, but with colors in place of scents."—
Aly Monroe, author of the Ellis Peters Historical Award-winner Icelight
"
Jakob's Colors
reduced me to tears. I loved its hypnotic, rhapsodic quality and can't shake it from my mind."—
Sarah Vaughan, author of The Art of Baking Blind