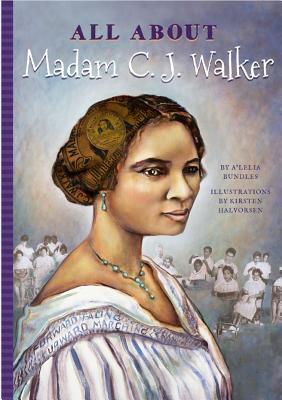 All about Madam C. J. Walker
Paperback

* Individual store prices may vary.
Description
Madam C. J. Walker was a self-made millionaire who was beloved within her community for her philanthropy, and respected as a first rate business person. She was America's first female self-made millionaire. Madam C. J. Walker is now the subject of the Netflix min-series Self Made based on the adult biography also by the A'Lelia Bundles.
Born Sarah Breedlove, she was the first person born free in her family. She married Charles Joseph Walker and became known as Madam C. J. Walker, the name she would later use on her hair care products.
After talking with her brothers, who were barbers, and experiencing problems with hair loss, she developed a formula that healed scalp infections. This inspired her to start her own line of hair care products to do things like reduce dandruff, grow longer hair, smooth hair, or prevent baldness. Her company employed thousands of door-to-door saleswomen from all over the United States and the Caribbean.
Blue River Press, 9781681570938, 128pp.
Publication Date: January 1, 2018