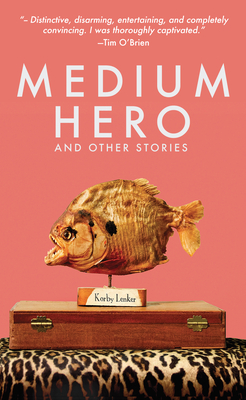 Medium Hero (Paperback)
And Other Stories
Turner, 9781681625072, 224pp.
Publication Date: December 1, 2015
* Individual store prices may vary.
Description
Inside this book are stories about insects, piano teachers, talking birds, dead birds, ex-convicts, suicide attempts, tarot cards, and bible verses. Some of the stories happened to Korby and some of them he just made up. It doesn't really matter which are which.
Up to this point in his life, he has been a professional singer-songwriter, traveling around by himself, playing songs for small audiences, selling CDs out of a suitcase. Occasionally there have been moments where the light shined particularly bright, but mostly it's just been him and a guitar, making music in living rooms and clubs and the occasional concert hall.
He has met a lot of people, most of whom leaned like him toward the fringe side of the social spectrum. He's written some of them into stories hunched over a laptop in the backseat of a touring van, or in the lobby of a Best Western, or on the cracked vinyl couch of a rock club's green room, poking a keyboard with a pair of sweaty pointer fingers.
And then when he was seven he fell in love with the Ramona Quimby books, and then it was the Great Brain books, and then the Roald Dahl. Most of his best friends have been characters from stories he's read. He's always been drawn to fiction because it tells you the truth you need to know. And the truth he needs to know is that, despite considerable advances in science and industry, the world is still a big fat piece of magic.
About the Author
Korby Lenker is a sneaky-good songwriter. And singer. And author. An abbreviated list of Lenker's achievements so far includes: a significant amount of airplay on the legendary Seattle indie rock station KEXP; a BBC 2 interview with Bob Harris, which is only about the highest honor a rootsy singer-songwriter touring the UK can get; opening slots for acts ranging from Willie Nelson to Ray LaMontagne, Nickel Creek, Keith Urban, Susan Tedeschi, and Tristan Prettyman; and wins in the Merlefest folk songwriting contest as well as the Kerrville Folk Festival's elite New Folk songwriting competition. Lenker was raised in Twin Falls Idaho. He is the son of a mortician and attended college in Bellingham, Washington, and there founded the Barbed Wire Cutters, called by SPIN Magazine "The Young Riders of the Bluegrass Revolt." Medium Hero is his first book.