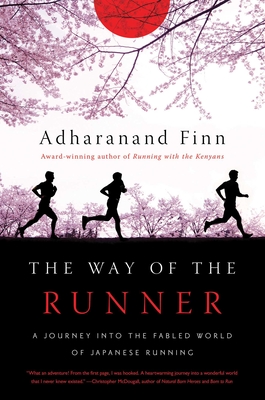 The Way of the Runner
A Journey into the Fabled World of Japanese Running
Hardcover

* Individual store prices may vary.
Other Editions of This Title:
Paperback (4/7/2016)
MP3 CD (10/18/2016)
Paperback (7/11/2017)
Description
Welcome to Japan, the most running-obsessed nation on Earth and home to a unique running culture unlike anything Adharanand Finn, author of Running with the Kenyans, has even experienced.

It may come as a surprise to many people, but Japan is the most running-obsessed country on earth. A 135-mile relay race, or "ekiden" is the country's biggest annual sporting event. Thousands of professional runners compete for corporate teams in some of the most competitive races in the world. The legendary "marathon monks" run a thousand marathons in a thousand days to reach spiritual enlightenment.

Yet so much of Japan's running culture remains a mystery to the outside world, on par with many of the unique aspects of contemporary Japan. Adharanand Finn, the award-winning author of Running with the Kenyans, spent six months immersed in this one of a kind running culture to discover what it might teach us about the sport and about Japan.

As an amateur runner about to turn 40, he also hoped to find out whether a Japanese approach to training might help him run faster. What he learns—about competition, team work, form, chasing personal bests, and about himself—will fascinate and surprise anyone keen to explore why we run and how we might do it better.
Praise For The Way of the Runner: A Journey into the Fabled World of Japanese Running…
"What an adventure! From the first page, I was hooked. A heartwarming journey into a wonderful world that I never knew existed until Finn swept me up and brought me there."
— Christopher McDougall, author of NATURAL BORN HEROES and BORN TO RUN

"Engaging. The Way of the Runner drops us deep behind lines in the land of the rising sun."
— Newsweek

"A great look at Japanese distance running and will provide an interesting read to anyone who wants to know what makes a particular running community tick. If you liked Running With the Kenyans then you will definitely enjoy this."
— Athletics Weekly

"Finn's explorations of Japanese running culture will be fascinating to anyone who enjoys the sport or is interested in learning about life in Japan."
— Library Journal

"It's a wonderful adventure, and it's not far-fetched at all to liken it to one of Plimpton's escapades, even if Finn seems to be a better runner than Plimpton was a football player. An elegant, well-written pleasure even for readers with no particular interest in foot racing."
— Kirkus Reviews (starred review)

"Combines great storytelling with immersive research. Finn, a lovely, anxious narrator as he approaches his 40th birthday worried about his race times, discovers how utterly ingrained in the Japanese psyche running is—as a mainstay of both community and psychology. Useful as a fresh perspective on your own running."
— Alexandra Heminsley, author of RUNNING LIKE A GIRL

"Brilliant, funny, charming and wise. Finn shines a light on a way of life that puts serious running at the heart of its culture and shows why the way of the runner: the racing and preparation, but also the culture, diet and lifestyle, is really a way of life—one that all of us, runners and non-runners alike should all aspire to."
— Robin Harvie, author of WHY WE RUN
Pegasus Books, 9781681771212, 326pp.
Publication Date: June 7, 2016
About the Author
Adharanand Finn is the author of Running with the Kenyans and The Way of the Runner. The first of these was shortlisted for the William Hill Sports Book Award. He is a journalist at the Guardian and also writes regularly for the Financial Times, the Independent, Runner's World, Men's Health, and many others. He lives in England
or
Not Currently Available for Direct Purchase