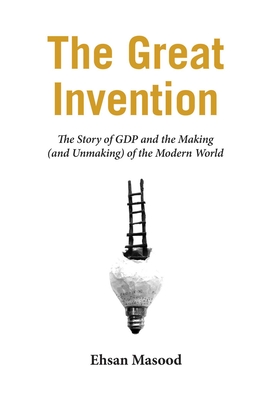 The Great Invention
The Story of GDP and the Making and Unmaking of the Modern World
Hardcover

* Individual store prices may vary.
Description
The fascinating story of one of the twentieth-century's most influential and dangerously addictive ideas, told through the lives of those who invented it.

The world's principal measure of the health of economies is gross domestic product, or GDP: the sum of what all of us spend every day, from the contents of our weekly shopping to large capital spending by businesses. GDP also includes the myriad things that our governments pay for, from libraries and road-line painting to naval dockyards and nuclear weapons.

The Great Invention reveals how in just a few decades GDP became the world's most powerful formula: how six algebraic symbols forged in the fires of the 1930's economic crisis helped Europe and America prosper, how the remedy now risks killing the patient it once saved, and how this fundamentally flawed metric is creating the illusion of global prosperity—and why many world leaders want to be able to ignore it but so far remain powerless to do so.

Drawing on interviews, firsthand accounts, and previously neglected source materials, The Great Invention takes readers on a journey from Capitol Hill to Whitehall—on the trail of theories made in Cambridge, tested in Karachi, and designed for global application—into the minds of unworldly geniuses seduced by the allure of power and the demands of politics.
Praise For The Great Invention: The Story of GDP and the Making and Unmaking of the Modern World…
"If you ever thought that economic policy could never make for gripping drama, try reading this book."
— Dawn

"Fascinating. Whether happiness should be embedded into decisions on the economy is an important one, and whether GDP should be abandoned in favor of something better is too. Masood's book helps raise those questions and others in a thought provoking manner. That's much needed in every endeavor these days, and needed in few places more than in the economics profession"
— Forbes

"An interesting book. Masood doesn't merely criticize the overreliance on GDP: he also explores ongoing efforts to develop a satisfactory substitute or supplement that would yield a more accurate picture of economic activity and its effects"
— Foreign Affairs

"Masood contends that GDP is a bill of goods the developed world foisted on emerging nations. It is flawed, he argues, because the monetary value of all goods and services produced in a country makes no reference to social well-being or inequality. Masood is also troubled by GDP's failure to consider the environmental damage that is, at times, a byproduct of growth. Many of Masood's criticisms have merit. He presents some interesting alternatives. He favors revolutionary change."
— Wall Street Journal

"After reading it you'll never be able to treat GDP seriously again."
— Sydney Morning Herald

"Masood covers decades of challenges to GDP conventions that make for a fascinating institutional and human story."
— Nature

"In lively prose, Masood argues that GDP is flawed because it ignores volunteering, housework, environmental degradation, job satisfaction, and income inequality."
— Publishers Weekly

"In lively prose, Masood argues that GDP is flawed because it ignores volunteering, housework, environmental degradation, job satisfaction, and income inequality."
— Kirkus Reviews

"Masood's highly readable book is a useful reminder of what GDP is and what it isn't."
— Science

"[A] sprightly and informative new history."
— In These Times

"An important and interesting book that shows how trapped we have become by the idea of Gross Domestic Product—and reveals how important it is to develop alternatives that will help us reduce inequality and respond to climate change."
— Kate E. Pickett, PhD, Professor of Epidemiology at the University of York and co-author of 'The Spirit Level: Why Equality is Better for Everyone'

"Highly readable. Masood poses troubling questions and lays the foundations for improvements to GDP."
— Journal of Markets and Morality
Pegasus Books, 9781681771373, 352pp.
Publication Date: June 7, 2016
About the Author
Ehsan Masood is a science writer, journalist, and broadcaster. Formerly on the editorial staff of Nature and New Scientist, he is currently the editor of Research Fortnight and Research Europe and teaches international science policy at Imperial College London. As well as writing for Prospect magazine, The Times (London), The Guardian, and Le Monde, he is a frequent presenter for BBC Radio. He lives in London.
or
Not Currently Available for Direct Purchase