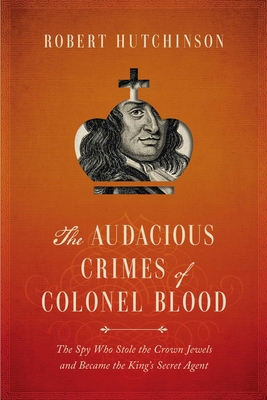 The Audacious Crimes of Colonel Blood
The Spy Who Stole the Crown Jewels and Became the King's Secret Agent
Hardcover

* Individual store prices may vary.
Other Editions of This Title:
Paperback (10/12/2021)
Paperback (6/13/2017)
MP3 CD (6/14/2016)
Compact Disc (6/14/2016)
Compact Disc (6/14/2016)
Description
The gripping story of one of the most enigmatic and alluring figures in British history: a dangerous double agent and Irish rogue in King Charles II's court

One morning in May 1671, a man disguised as a parson daringly attempted to seize the Crown Jewels from the Tower of London. Astonishingly, he managed to escape with the regalia and crown before being apprehended. And yet he was not executed for treason. Instead, the king granted him a generous income and he became a familiar strutting figure in the royal court's glittering state apartments.

This man was Colonel Thomas Blood, a notorious turncoat and fugitive from justice. Nicknamed the 'Father of all Treasons,' he had been involved in an attempted coup d'etat in Ireland as well as countless plots to assassinate Charles II. In an age when gossip and intrigue ruled the coffee houses, the restored Stuart king decided Blood was more useful to him alive than dead. But while serving as his personal spy, Blood was conspiring with his enemies. At the same time he hired himself out as a freelance agent for those seeking to further their political ambition.

In The Audacious Crimes of Colonel Blood, bestselling historian Robert Hutchinson paints a vivid portrait of a double agent bent on ambiguous political and personal motivation, and provides an extraordinary account of the perils and conspiracies that abounded in Restoration England.
Praise For The Audacious Crimes of Colonel Blood: The Spy Who Stole the Crown Jewels and Became the King's Secret Agent…
"A carefully researched piece of popular history. Hutchinson sifts the various theories with characteristic thoroughness and lightness of touch."
— Daily Mail

"A marvellous romp."
— The Times (UK)

"A nailbiting chronicle of a thoroughly unrespectable life. Robert Hutchinson, thoroughly at home in the smoke-and-mirrors world of Tudor and Stuart espionage, commends this doughty old desperado to us for his panache, effrontery and audacity. The Audacious Crimes of Colonel Blood is television mini-series material — the clash of blades, the whizzing bullets and galloping hooves guarantee nonstop adventure."
— Literary Review

"Hutchinson paints a compelling portrait of a country hectic with sedition. Rambunctious and richly researched. "
— Sunday Telegraph

"Successfully describes how phenomenal self-preservation instincts and a highly unstable royal court allowed a man who stole the crown to become a royal spy. Blood's remarkable tenacity shines through."
— Publishers Weekly

"A raffish and intrepid adventurer, Blood led one of those colorful lives that people who read too much secretly wish could be theirs. If you enjoy action-packed history, this biography should be in your beach bag."
— The Washington Post

"A good history of difficult times in England and Ireland."
— Kirkus Reviews

"Hutchinson's focus on Blood provides a great lens onto this most perilous and outrageous of times. The life of Colonel Blood and the goings-on of the Cromwellian and Restoration eras are told here with utter vivacity."
— Booklist (starred)

"Reading this book, it's not hard to imagine a man in an elaborate cravat introducing himself as "Blood. Thomas Blood." The plots, planned uprisings, and double crosses pile up as Blood plows through history and readers are left surprisingly sympathetic to those who disinterred Blood—zombie criminals seem plausible by the end. For readers interested in royal intrigue, those who enjoyed Hutchinson's other histories, and biography buffs who prefer their subjects a bit bloodthirsty."
— Library Journal

"Hutchinson presents Blood as a sort of dissenting Scarlet Pimpernel whose adventures he describes vividly and cites with scholarly detail."
— The New Criterion
Pegasus Books, 9781681771441, 352pp.
Publication Date: June 14, 2016
About the Author
Robert Hutchinson is the bestselling author of The Last Days of Henry VIII, Elizabeth's Spymaster, Thomas Cromwell, House of Treason, Young Henry and The Spanish Armada. He lives in England.
or
Not Currently Available for Direct Purchase