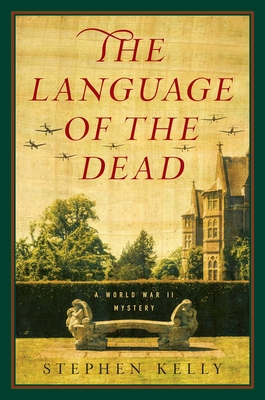 The Language of the Dead (Paperback)
Pegasus Books, 9781681771489, 256pp.
Publication Date: July 12, 2016
Other Editions of This Title:
Digital Audiobook (4/14/2015)
MP3 CD (4/15/2015)
Compact Disc (4/15/2015)
Hardcover (4/15/2015)
* Individual store prices may vary.
Description
German bombers are arriving daily, seeking to decimate England. But in a rural Hampshire village, things have remained fairly quiet—until an elderly loner, Will Blackwell, is brutally murdered. The method of his killing bears the hallmarks of the traditional vanquishing of a witch, and indeed, local legend claims that as a boy, Blackwell encountered a ghostly black dog sent from the devil, who struck a bargain for Blackwell's soul.Not long after the murder, a young woman who is carrying the illegitimate child of a fighter pilot also is violently killed; then a local drunkard ends up in an abandoned mill with the back of his head bashed in. As the Germans continue their relentless attack, Detective Inspector Thomas Lamb rushes to solve the crimes. Do the killer's motivations lie in the murky regions of the occult?
About the Author
Stephen Kelly is an award-winning writer, reporter, editor and newspaper columnist. His work has appeared in the Baltimore Sun, The Washington Post and Baltimore Magazine. He has a Master of Arts degree from the Johns Hopkins University Writing Seminars and has taught writing and journalism at Hopkins, Towson University, in Baltimore, and Sweet Briar College, in Virginia. He lives in Columbia, Maryland.
Praise For The Language of the Dead…
Kelly fantastically recreates the claustrophobic mood of England under siege with period details.

A fine-grained first novel.

Fans of well-researched historical mysteries, particularly the work of Charles Todd and Charles Finch, will welcome this solid debut that introduces a complex, driven hero who is both a product of his time and relatable in our modern age. Here's hoping this will be the first of many installments featuring the endearing Lamb.

Kelly transports his reader fully and with convincing authenticity to a different time and place. They just happen to be a time of war and a place of darkness and menace—and once he's got you there, he spins his web of intrigue with expert ease. Superb stuff!
— Craig Russell, international bestselling author of the Fabel and Lennox thriller series

Kelly's
strong writing weaves these diverse strands into a cohesive whole. The novel
vividly evokes the era and setting. I greatly enjoyed this story and look
forward to reading more of Inspector Lamb's cases in the future. Recommended.

Kelly does a good job of juxtaposing the subtle ways the tensions of the crimes combine in all the characters with the tensions of the times. A very promising debut.

Charles Todd fans will welcome Kelly's first novel, a superior whodunit set in WWII England. Detective Chief Inspector Thomas Lamb, who's haunted by his experiences in WWI, is a complex lead meriting further outings.

Readers of the wonderful Charles Todd series will recognize the premise of a former soldier-turned-cop affected by the war but debut novelist Stephen Kelly makes this novel both reassuring and fresh. Vivid. Readers will look forward to spending more time with these characters.

Chief Inspector Thomas Lamb investigates the brutal killing of an old man, the subject of a demoniacal local legend, while the Battle of Britain rages in the skies above the English countryside. Haunted by memories of the First World War reignited by the incessant air combat, Lamb follows a twisted trail of evidence including an emotionally disturbed boy's cryptic drawings. The investigation uncovers dark secrets that connect the victim's death to a series of murders. Filled with believable, psychologically complex characters in a vividly evoked historical setting, this superbly written, suspenseful mystery keeps the reader guessing from the very beginning to a startling conclusion.
— Gary Inbinder, author of The Devil in Montmartre

The crusty Lamb is a well-conceived character, but what makes the novel work is Kelly's portrait of the village and the almost palpable sense of menace that comes from the possibility of a Nazi invasion.

This is a thrilling read. An evocative debut with a dark secret at its heart, Language of the Dead grips from the beginning and refuses to relinquish its hold until the final page. Based on a real case the novel takes the facts in a new and original direction, providing a thrilling dénouement via some very satisfying twists and turns. I for one can't wait to read more about the adventures of Inspector Lamb and his team in the future.

— Diana Bretherick, author of City of Devils

Stephen Kelly's The Language of the Dead is a gripping mystery set in the middle of the German air raids on Britain in World War Two. Grisly murder, war, the occult, and lively characters with dark secrets all come together in this fine story.

— Philip Freeman, author of St. Brigid's Bones
or
Not Currently Available for Direct Purchase