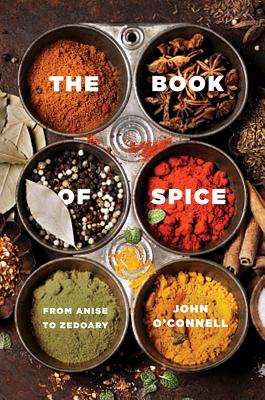 The Book of Spice (Hardcover)
From Anise to Zedoary
Pegasus Books, 9781681771526, 248pp.
Publication Date: July 12, 2016
Other Editions of This Title:
Paperback (7/11/2017)
Compact Disc (1/21/2020)
MP3 CD (1/21/2020)
* Individual store prices may vary.
Description
At once familiar and exotic, spices are rare things, comforting us in favorite dishes while evoking far-flung countries, Arabian souks, colonial conquests and vast fortunes.  John O'Connell introduces us to spices and their unique properties, both medical and magical, alongside the fascinating histories behind both kitchen staples and esoteric luxuries. 
A tasty compendium of spices and a fascinating history and wide array of uses of the world's favorite flavors—
The Book of Spice: From Anise to Zedoary
reveals the amazing history of spices both familiar and esoteric. John O'Connell's erudite chapters combine history with insights into art, religion, medicine, science, and is richly seasoned with anecdotes and recipes.
Discover why Cleopatra bathed in saffron and mare's milk, why wormwood-laced absinthe caused eighteenth century drinkers to hallucinate and how cloves harvested in remote Indonesian islands found their way into a kitchen in ancient Syria. Almost every kitchen contains a bottle of cloves or a stick of cinnamon, almost every dish a pinch of something, whether chili or cumin. The Book of Spice is culinary history at its most appetizing.
About the Author
John O'Connell worked at Time Out (London) and now writes for The Times, Guardian, New Statesman, and National. He is the author of For the Love of Letters and lives in London with his family.
Praise For The Book of Spice: From Anise to Zedoary…
"A fun read. Cinnamon, nutmeg, and ginger are highlighted along with low-profile seasonings such as mahleb, grains of paradise, and asafoetida. Intriguing discussions of the origin and purpose of spices run throughout, such as how Greek physician Dioscorides advised troops to use licorice to relieve thirst, if they lacked water. Also included is a directory of spice mixes. Supplies a piquant perspective and makes readers want to get in the kitchen and start cooking.

More than just culinary reference, this book delves into the rich history of spices and how they've helped shape the modern world. O'Connell's easy charm and flair for narrative make for an entertaining look at the seeds, roots, barks, and other plant components that today we look on as everyday flavorings but at one time started wars and launched explorers. For curious cooks, it's a good resource and a fine read.