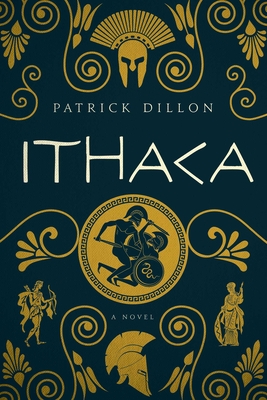 Ithaca
A Novel of Homer's Odyssey
Hardcover

* Individual store prices may vary.
Other Editions of This Title:
Paperback (7/11/2017)
MP3 CD (7/5/2016)
Compact Disc (7/5/2016)
Compact Disc (7/5/2016)
Description
In the tumultuous aftermath of the Trojan War, a young man battles to save his home and his inheritance. Setting out to find his father, he ends up discovering himself.

Telemachus's father, Odysseus, went off to war before he was born … and never came back. Aged sixteen, Telemachus finds himself abandoned, his father's house overrun with men pursuing his beautiful mother, Penelope, and devouring the family's wealth. He determines to leave Ithaca, his island home, and find the truth. What really happened to his father? Was Odysseus killed on his journey home from the war? Or might he, one day, return to take his revenge?

Telemachus's journey takes him across the landscape of bronze-age Greece in the aftermath of the great Trojan war. Veterans hide out in the hills. Chieftains, scarred by war, hoard their treasure in luxurious palaces. Ithaca re-tells Homer's famous poem, The Odyssey, from the point of view of Odysseus' resourceful and troubled son, describing Odysseus's extraordinary voyage from Troy to the gates of hell, and Telemachus's own journey from boyhood to the desperate struggle that wins back his home … and his father.
Praise For Ithaca: A Novel of Homer's Odyssey…
"An extraordinary reimagining of a foundational story of world literature. In a daring and completely successful innovation, Dillon has shifted the emotional center of the story from Odysseus to the innocents he has injured. The prose is at once spare and rich, the descriptions intense and compelling. This is a book not to be missed."
— Terence Hawkins, author of 'The Rage of Achilles'

"Ithaca is a vibrant and fresh revival; Telemachus's struggles are illuminated through the use of his own voice. The well-loved classic is present: Penelope is beautiful, determined, fading; the suitors are shocking; Menelaus and Helen fight bitterly; the aging Nestor tries to guide Telemachus true. Dillon's achievement is in characterization while retaining the heart and passion of Homer."
— Shelf Awareness (starred review)

"A vibrant retelling of The Odyssey. Dillon's use of the father-son bond and their parallel journeys—Odysseus's traumatic, meandering trip toward home and Telemachus's turbulent ascent to manhood—is as rich as it is complex. This is a smart and highly readable adventure, and a fresh take on a classic story."
— Publishers Weekly

"Dillon has done an excellent job of reimagining the end of The Odyssey and charting Telemachus' growth from a timid youth to a capable young man ... the story is smoothly told and suspenseful, holding readers' interest through an open-ended finale that invites a sequel."
— Booklist

"In this retelling, there is room for uncertainty, compromise, and resentment; the result is a more human and touching story about an aging warrior with a lot of fight left who finally comes home to find his kingdom has crumbled and that he is at odds with a son raised on a legend, who now wants only to find peace. This fresh take on an ancient narrative will capture the imagination and heart of readers both new to and well versed in Homer's works. It will also attract fans of Madeline Miller's The Song of Achilles."
— Library Journal

"Updating the second oldest extant work of Western literature, Homer's Odyssey, seems a daunting task, but the author entertainingly succeeds. Delightfully illuminating and satisfying. The climax is absolutely riveting and riotously dramatic with an even more unexpected finale."
— Historical Novels Review
Pegasus Books, 9781681771557, 304pp.
Publication Date: July 5, 2016
About the Author
Patrick Dillon is a writer and award-winning architect. He is the author of 7 books, including Truth, Lies, Gin: The Much-Lamented Death of Madam Geneva, and The Last Revolution. Patrick Dillon has been fascinated by Homer's epic poem The Odyssey since studying it at school, and has traveled extensively in Greece. He lives in London with his family, dividing his time between writing and architecture.
or
Not Currently Available for Direct Purchase