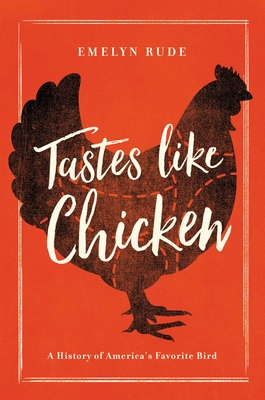 Tastes Like Chicken
A History of America's Favorite Bird
Hardcover

* Individual store prices may vary.
Other Editions of This Title:
Library Binding, Large Print (3/1/2017)
Paperback (11/14/2017)
Description
From the domestication of the bird nearly ten thousand years ago to its current status as our go-to meat, the history of this seemingly commonplace bird is anything but ordinary.

How did chicken achieve the culinary ubiquity it enjoys today? It's hard to imagine, but there was a point in history, not terribly long ago, that individual people each consumed less than ten pounds of chicken per year. Today, those numbers are strikingly different: we consumer nearly twenty-five times as much chicken as our great-grandparents did.

Collectively, Americans devour 73.1 million pounds of chicken in a day, close to 8.6 billion birds per year. How did chicken rise from near-invisibility to being in seemingly "every pot," as per Herbert Hoover's famous promise?

Emelyn Rude explores this fascinating phenomenon in Tastes Like Chicken. With meticulous research, Rude details the ascendancy of chicken from its humble origins to its centrality on grocery store shelves and in restaurants and kitchens. Along the way, she reveals startling key points in its history, such as the moment it was first stuffed and roasted by the Romans, how the ancients' obsession with cockfighting helped the animal reach Western Europe, and how slavery contributed to the ubiquity of fried chicken today.

In the spirit of Mark Kurlansky's Cod and Bee Wilson's Consider the Fork, Tastes Like Chicken is a fascinating, clever, and surprising discourse on one of America's favorite foods.
Praise For Tastes Like Chicken: A History of America's Favorite Bird…
"Rude lays out the fascinating history of how a once-maligned bird became a staple of the American dinner plate. Rude has a great eye for the strange moments along the way. A fine window into how our ancestors cooked, ate, and thought."
— Boston Globe

"In a breezy narrative brimming with retro recipes, culinary historian Rude focuses on the history of US chicken consumption, currently 8.6 billion birds a year. From New York immigrants' foul 'ornithological parks' of the 1880s and 1890s to the rise in global demand—which can push production at the expense of animal welfare—Rude reveals chicken as a troublesome taste."
— Nature

"The irrepressible yardbird struts through Tastes Like Chicken as Emelyn Rude engagingly explains how this descendant of dinosaurs became the default American dinner."
— Joyce E. Chaplin, Harvard University, author of Round About the Earth

"A fun and smart read. As one of the most popular ingredients in the world, I found it fascinating to explore the history of how we eat and cook this bird has evolved over the centuries. Emelyn Rude is a brilliant writer and by far the most whimsical chicken historian I have ever met."
— Einat Admony, chef and owner for the Balaboosta and Bar Bolonat, author of the Balaboosta cookbook

"Until now, I've never read such a comprehensive look at one of my favorite foods and a protein that is so integral to any kitchen. Emelyn does a fantastic job of explaining why chicken is such an important part of our country's culinary fabric."
— Marcus Samuelsson, James Beard Award-winning chef, author of Yes, Chef

"A food historian with a feature writer's flair illuminates the culinary history of the now-ubiquitous chicken.Though the chicken would seem to be a subject that everybody knows about, Rude makes the humble bird's story fresh and interesting on nearly every page. Rude finds the bird as fascinating as she makes it for readers."
— Kirkus Reviews (starred review)

"Rude keeps it interesting with light writing and scandalous chicken tales. She also provides recipes, making this an easy cookbook to pack for a light historical read."
— HeraldNet

"Readers of food histories such as Mark ­Kurlansky's Cod will appreciate this engaging, well-researched, and thorough history of America's changing food preferences."
— Library Journal
Pegasus Books, 9781681771632, 272pp.
Publication Date: August 2, 2016
About the Author
Emelyn Rude has been a food writer for TIME and Vice and media manager for some of New York City's most acclaimed chefs and restaurateurs. She is a contributor to National Geographic's "The Plate" and is a National Geographic Young Explorer. This is her first book.
or
Not Currently Available for Direct Purchase