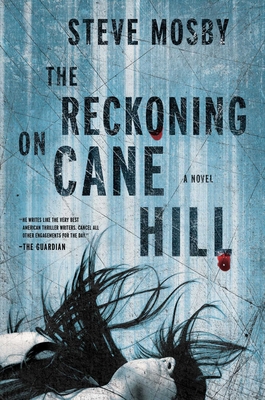 The Reckoning on Cane Hill (Hardcover)
A Novel
Pegasus Books, 9781681772080, 352pp.
Publication Date: September 13, 2016
* Individual store prices may vary.
Description
A terrifying and heartbreaking new novel of guilt and innocence, from CWA Dagger-­winner Steve Mosby.
The hardest crimes to acknowledge are your own.
Charlie Matheson died two years ago in a car accident. So how is a woman bearing a startling resemblance to her claiming to be back from the dead? Detective Mark Nelson is called in to investigate and hear her terrifying account of what she's been through in the afterlife.
Every year, Detective David Groves receives a birthday card for his son—even though he buried him years ago. His son's murder took everything from him, apart from his belief in the law, even though the killers were never found. This year, though, the card bears a different message:
I know who did it.
Uncovering the facts will lead them all on a dark journey, where they must face their own wrongs as well as those done to those they love. It will take them to a place where justice is a game, and punishments are severe. Nelson and Groves know the answers lie with the kind of people you want to turn and run from. But if they're to get to the truth, they must face their own wrongs, as well as those inflicted on the ones they love.
About the Author
Steve Mosby is the author of three previous novels, The Murder Code, The Nightmare Place, and The Reckoning on Cane Hill, all available from Pegasus Crime. His novels have been translated into nine languages around the world and have landed in the top ten on bestseller lists in France, Germany, and Holland. He lives in England.
Praise For The Reckoning on Cane Hill: A Novel…
The psychological torture in this book is as disturbing as any anatomical pain described in other thrillers. Mosby masterfully keeps readers off balance. Recommend this superb crime novel to fans of Val McDermid and Michael Robotham, but be sure to apologize for the sleepless nights to come.

A stunning, intricately plotted police procedural. Readers will be blown away.

An exceptionally evil cadre of villains. A powerfully haunting tale.

A terrifying and heartbreaking new novel of guilt and innocence.

Thriller readers who yearn for intrigue, swift pacing, and surreal happenings will enjoy every word of Steve Mosby's The Reckoning on Cane Hill.


Feels creepy from page one, never letting up on the alarming possibilities that haunt the detectives' every step. The journey to the terrifying conclusion is a pleasurably frightening one, filled with solid characterization, jigsaw puzzle plotting and a thorough sense of evil. Fans of horror and police fiction will find plenty to enjoy in Mosby's unsettling brand of crime thriller.

Steve Mosby has become one of a handful of writers who make me excited about crime fiction.
— Val McDermid

Although the secrets held within the corridors of Cane Hill keep us turning the pages up until the end, what really makes this thriller such a standout is the author's intimate grasp of Detectives Groves and Nelson's humanity.
or
Not Currently Available for Direct Purchase