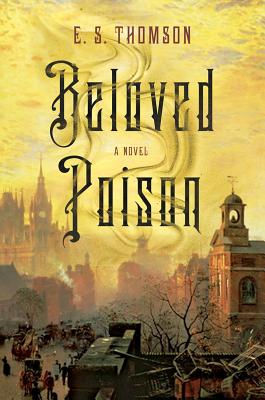 Beloved Poison (Hardcover)
A Novel (Jem Flockhart Mysteries #1)
Pegasus Books, 9781681772141, 400pp.
Publication Date: September 13, 2016
Other Editions of This Title:
Paperback (11/14/2017)
Library Binding, Large Print (2/1/2017)
* Individual store prices may vary.
Description
Set in a crumbling 1850s London infirmary, a richly atmospheric Victorian crime novel where murder is the price to be paid for secrets kept.
Ramshackle and crumbling, trapped in the past and resisting the future, St. Saviour's Infirmary awaits demolition. Within its stinking wards and cramped corridors, the doctors bicker and backstab. Ambition, jealousy, and loathing seethe beneath the veneer of professional courtesy. Always an outsider, and with a secret of her own to hide, apothecary Jem Flockhart observes everything but says nothing.
And then six tiny coffins are uncovered, inside each a handful of dried flowers and a bundle of mouldering rags. When Jem comes across these strange relics hidden inside the infirmary's old chapel, her quest to understand their meaning prises open a long-forgotten past—with fatal consequences.
In a trail that leads from the bloody world of the operating room and the dissecting table to the notorious squalor of Newgate Prison and the gallows, Jem's adversary proves to be both powerful and ruthless. As St. Saviour's destruction draws near, the dead are unearthed from their graves while the living are forced to make impossible choices. And murder is the price to be paid for the secrets to be kept.
About the Author
E. S. Thomson has a Ph.D. in the history of medicine and works as a university lecturer in Edinburgh. Her work has been shortlisted for the Saltire First Novel Award and the Scottish Arts Council First Book Award. Beloved Poison was shortlisted for the Scottish Crime Novel of the Year Award, and Dark Asylum was longlisted for the Crime Writers' Association Historical Dagger Award. Elaine lives in Edinburgh with her two sons.
Praise For Beloved Poison: A Novel (Jem Flockhart Mysteries #1)…
After a while the Grand Guignol effects start to get under your skin—unless that's just the ­leeches crawling out of their jar.
— Marilyn Stasio

Rich atmospherics and a Dickensian portrayal of the underbelly of Victorian London elevate Thomson's superb whodunit above most other historical debuts. Thomson excels in evoking the claustrophobic feel of the back alleys Jem must tread in search of the truth.

A debut mystery chock full of mysterious doings, riveting historical detail, and so many horrifying anecdotes about the state of medicine in the mid-1800s that you can almost feel the evil miasma rising from the pages.

This outstanding debut historical enthralls with its meticulously researched details of 19th-century hospitals; the result is a dismal portrait of unrelenting bleakness that will make readers grateful to be living in the 21st century. This is Showtime's Penny Dreadful, brought to life!


A beautifully dark portrait of Victorian London that Charles Dickens would feel right at home in. With macabre portrayals of anatomy, science, and death, this Dickensian crime novel is not to be missed, especially if you're missing Showtime's Penny Dreadful and are looking to fill the loss.


E. S. Thomson mixes the perfect potion for a dark and mysterious read.

Beloved Poison vividly portrays the sad state of mid-nineteenth-century medicine. Jem makes a sympathetic narrator, and the mystery is puzzling enough to keep readers entertained.


Thomson's sure-handed first novel, set in 1850s London, displays a graphic descriptive style and dark humor similar to D. E. Meredith's The Devil's Ribbon, and injects a fascinating abundance of unusual period details about medical practice, as in Lawrence Goldstone's The Anatomy of Deception.


The narrative is excellent and the story utterly enthralling – quite simply a page-turner!

Beloved Poison introduces a major talent. An absorbing read on many levels, sure to enthrall readers and leave them anxious for her next book.

or
Not Currently Available for Direct Purchase