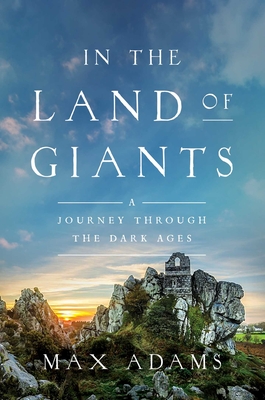 In the Land of Giants
A Journey Through the Dark Ages
Hardcover

* Individual store prices may vary.
Other Editions of This Title:
Digital Audiobook (3/2/2016)
Paperback (12/12/2017)
Hardcover (12/1/2015)
Description
A cultural exploration of the Dark Age landscapes of Britain that poses a significant question: Is the modern world simply the realization of our ancient past?

The five centuries between the end of Roman Britain and the death of Alfred the Great have left few voices save a handful of chroniclers, but Britain's "Dark Ages" can still be explored through their material remnants: architecture, books, metalwork, and, above all, landscapes.

Max Adams explores Britain's lost early medieval past by walking its paths and exploring its lasting imprint on valley, hill, and field. From York to Whitby, from London to Sutton Hoo, from Edinburgh to Anglesey, and from Hadrian's Wall to Loch Tay, each of his ten walking narratives form free-standing chapters as well as parts of a wider portrait of a Britain of fort and fyrd, crypt and crannog, church and causeway, holy well and memorial stone.

Part travelogue, part expert reconstruction, In the Land of Giants offers a beautifully written insight into the lives of peasants, drengs, ceorls, thanes, monks, knights, and kings during an enigmatic but richly exciting period of Britain's history.
Praise For In the Land of Giants: A Journey Through the Dark Ages…
"In some ways like Thoreau's Walden, In the Land of Giants touches many bases. Adams has the uncanny ability to invoke and revive the past, to see as the peasants and nobles 1500 years ago might have seen. In the end, what we get from this unusual book is a stereoscopic view of today's landscape made affecting and somehow more real, touched as it is by people and places long gone."
— Providence Journal

"This richly detailed journey reminds readers that the medieval Dark Ages actually shone with creative human energies rivaling those of our own era. A distant age evoked with the thrill of fresh rediscovery."
— Booklist (starred)

"Beautifully written. An engaging and scholarly journey through Britain's landscapes."
— Times Literary Supplement

"The author's act of retracing these paths breathes life back into the sites and people from hundreds of years ago, and for that experience alone, it is a worthy book. Myth and ancient magic meet with solid historical ground in Adams' voyage through a largely forgotten age."
— Kirkus Reviews

"Part history lesson, part travelogue, and part philosophical musing, this book reminds readers of a world in which time and distance were measured differently. This is a book to savor; as readers travel with Adams, they will long to get some hiking boots and a staff to follow these forgotten trails."
— Publishers Weekly

"A meaty book about the diversity of the British and the complexity of British medieval (and ancient, for that matter) history. Adams is great when introducing big ideas and allowing readers to make the small but essential connections between them."
— Bookreporter

"Adams has succeeded in creating a bold account concerned with those timeless qualities that bind people together across centuries."
— BBC History Magazine

"Adams strikingly evokes the Dark Ages and reminds readers that the British landscape is dotted with far more of its remains than most would suppose. The combination of history and travel writing is always a difficult hybrid to master, but Adams has done so ably, creating a veritable gazetteer of the Land of Giants for others to follow."
— The Literary Review
Pegasus Books, 9781681772189, 416pp.
Publication Date: October 11, 2016
About the Author
Max Adams is the author of Admiral Collingwood, The Prometheans, and The King in the North, all published in Great Britain. This is his first book to be published in the United States. A university professor, Max lives in the northeast of England.
or
Not Currently Available for Direct Purchase