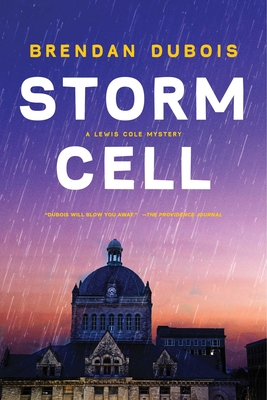 Storm Cell
A Lewis Cole Mystery (Lewis Cole Mysteries)
Hardcover

* Individual store prices may vary.
Other Editions of This Title:
Hardcover, Large Print (9/9/2017)
Description
In award-winning author Brendan DuBois' new mystery novel, defense analyst Lewis Cole must try to save a close friend from a death row murder conviction.

In his tenth outing, retired intelligence analyst Lewis Cole faces his most daunting challenge yet: Trying to save his friend Felix Tinios from being sent to death row after a conviction on first degree murder—but Felix refuses to accept Lewis' assistance.

Felix is being charged for the brutal murder of a local businessman—witnesses place him at the location; the recovered murder weapon belonged to Felix; and his fingerprints are all over the crime scene. It seems to be the proverbial open-and-shut case, but Lewis refuses to believe his friend—even though Felix is a former enforcer for the Boston mob—was responsible.

As he engages in his one-man attempt to free his friend, two FBI agents come to him with disturbing news: they have word that unless Felix is freed from prison in just three days, he will be murdered while in custody. With time running out, the FBI nipping at his heels, and with Felix's own lawyer refusing to help, Lewis is on his own as he desperately tries to clear his friend's name before Felix departs prison . . . as a dead man.
Praise For Storm Cell: A Lewis Cole Mystery (Lewis Cole Mysteries)…
"In Storm Cell, Lewis Cole uncovers closely guarded secrets and makes clever use of some unwitting allies, but he still has to struggle against some surprising twists, as DuBois spins an elaborate web of deceptions to test his amateur sleuth in this entertaining tale."
— Alfred Hitchcock Mystery Magazine

"Lewis Cole is at his best when he's styling himself as the not-much-to-lose wiseguy, down on his luck but not out for the count. DuBois displays his expertise at balancing action and introspection, providing plenty of tense confrontations, clever reversals and surprising reveals, as well as many more character-based but still compelling scenes."
— Portland Press Herald

"Amid the action—the chases and confrontations, all portrayed skillfully—what really holds the reader is the understated Cole himself."
— Booklist

"A well-plotted, tripwire of a novel that makes you recall the fictional detectives that have come before but in its own very energetic prose."
— Criminal Element

"Nobody is better than DuBois at kicking his reluctant hero into action or at rooting every complication in something that feels disconcertingly like the normal rhythms of life outside the justice system."
— Kirkus Reviews

"DuBois's tenth series outing (after Blood Foam) is another riveting read, filled with wit and intrigue."
— Library Journal

"It is impossible for me to overpraise Brendan DuBois."
— Otto Penzler, The Mysterious Bookshop
Pegasus Crime, 9781681772332, 256pp.
Publication Date: November 22, 2016
About the Author
Brendan DuBois is the award-winning author of sixteen novels and more than 120 short stories. His short stories have twice won him the Shamus Award from the Private Eye Writers of America and have also earned him three Edgar Award nominations. He is the author of the Lewis Cole mystery series. including Fatal Harbor, Blood Foam, and Storm Cell, which are all available from Pegasus Books. Brendan lives in New Hampshire. Visit his website at www.BrendanDuBois.com.
or
Not Currently Available for Direct Purchase