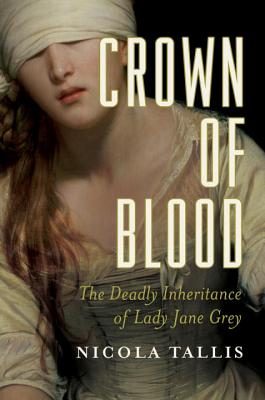 Crown of Blood
The Deadly Inheritance of Lady Jane Grey
Hardcover

* Individual store prices may vary.
Other Editions of This Title:
Digital Audiobook (3/11/2019)
Compact Disc (3/12/2019)
Paperback (12/12/2017)
MP3 CD (3/12/2019)
Compact Disc (3/12/2019)
Description
A significant retelling of the often-misunderstood tale of Lady Jane Grey's journey through her trial and execution—recalling the dangerous plots and web of deadly intrigue in which she became involuntarily tangled, and which ultimately led to a catastrophic conclusion.

"Good people, I am come hither to die, and by a law I am condemned to the same." These were the heartbreaking words of a seventeen-year-old girl, Lady Jane Grey, as she stood on the scaffold awaiting death on a cold February morning in 1554. Minutes later her head was struck from her body with a single stroke of a heavy axe. Her death for high treason sent shockwaves through the Tudor world, and served as a gruesome reminder to all who aspired to a crown that the axe could fall at any time.
Jane is known to history as "the Nine Days Queen," but her reign lasted, in fact, for thirteen days. The human and emotional aspects of her story have often been ignored, although she is remembered as one of the Tudor Era's most tragic victims. While this is doubtlessly true, it is only part of the complex jigsaw of Jane's story. She was a remarkable individual with a charismatic personality who earned the admiration and affection of many of those who knew her. All were impressed by her wit, passion, intelligence, and determined spirit. Furthermore, the recent trend of trying to highlight her achievements and her religious faith has, in fact, further obscured the real Jane, a young religious radical who saw herself as an advocate of the reformed faith—Protestantism—and ultimately became a martyr for it.
Crown of Blood
is an important and significant retelling of an often-misunderstood tale: set at the time of Jane's downfall and following her journey through to her trial and execution, each chapter moves between the past and the "present," using a rich abundance of primary source material (some of which has never been published) in order to paint a vivid picture of Jane's short and turbulent life. This dramatic narrative traces the dangerous plots and web of deadly intrigue in which Jane became involuntarily tangled—and which ultimately led to a shocking and catastrophic conclusion.
Praise For Crown of Blood: The Deadly Inheritance of Lady Jane Grey…
Tallis takes this thin slice of fact and serves it up as a full banquet, filling in history's faint outline. The telling is by necessity speculative, since so little primary source material exists. Nevertheless, Tallis perseveres, presenting Jane as 'a spirited girl who demonstrated character, passion, talent and strength,' a serious bookworm who grew up in a household where new ideas flourished.

Tallis brings this tragic teen to vivid life in her perceptive and thoughtful new book.

In her first book, Tallis makes an energetic case that Grey deserves more attention. Almost all existing documents cover only her final months, but Tallis does an admirable job turning up sources on her subject's early life which concentrate on her high-ranking parents and Jane's intense religious education.

The tragic life and short (nine-day) reign of Lady Jane Grey is eloquently explored. Ably guiding readers through the complex maze of familial connections and Tudor politics, the author presents an engaging portrait of a young woman whose sole crime was having had the misfortune to be born the great-niece of Henry VIII. Highly recommended for readers interested in British history or the Tudor era.

Tallis humanizes Grey, showing her willfulness as well as her desperation to please her remarkably unwise parents. Popular myths and earlier historical interpretations of key events receive fresh analysis aided by diligent research. Tallis's clear writing and well-paced narrative heighten the story's climactic and tragic ending.

Tallis narrates these dramatic events with all the verve and excitement that they deserve. Her portrait of Jane as something of a feminist before her time carries complete conviction. Nicola Tallis combines Jane's virtues as a scrupulous scholar herself, with a colorful background of how Tudor England looked, sounded and smelled. She has succeeded in drawing Jane out of the shadows.

This is a stunning debut from a young historian who deserves to be recognized as a major talent in her field. It's history as it should be written, vivid, colorful, pacy and evocative, but above all authentic and based on sound and innovative research. It's an outstanding contribution to our knowledge of Lady Jane Grey. Most warmly recommended!
— Alison Weir, #1 New York Times bestselling author

Crown of Blood is authoritative, thoughtful, and elegantly written. Telling use of original sources makes fresh and vivid—as well as moving—the story of a girl too often dismissed as a mere blank canvas onto which others could write. A genuinely impressive debut.

— Sarah Gristwood, author of 'Blood Sisters' and 'Game of Queens'

Through meticulous research, Nicola Tallis pieces Lady Jane Grey's fascinating story together, and in so doing brings this extraordinary young woman vividly to life. Engagingly written and utterly compelling throughout. A stunning debut.
— Tracy Borman, author of 'The Private Lives of the Tudors' and 'Thomas Cromwell'

This is a wonderful investigation of Lady Jane Grey, enlightening and gripping, full of superb research and beautifully written. Nicola Tallis gives the tragic nine day queen brilliant and fascinating life.
— Kate Williams, author of the New York Times bestseller 'Becoming Queen Victoria'
Pegasus Books, 9781681772448, 400pp.
Publication Date: December 6, 2016
About the Author
Nicola Tallis achieved a first-class bachelor's degree with honors in history from Bath Spa University. She also has an MA in Public History from Royal Holloway College, University of London. Nicola has been passionate about English history all of her life, and has worked as a curator, lecturer, and historical researcher. She is currently the resident historian for Alison Weir Tours. Crown of Blood, her first book, is the result of five years of research on the Grey family.
or
Not Currently Available for Direct Purchase