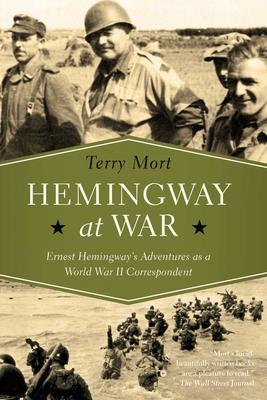 Hemingway at War
Ernest Hemingway's Adventures as a World War II Correspondent
Hardcover

* Individual store prices may vary.
Other Editions of This Title:
Paperback (12/12/2017)
Description
From Omaha Beach on D-Day and the French Resistance to the tragedy of Huertgen Forest and the Liberation of Paris, this is the story of Ernest Hemingway's adventures in journalism during World War II.

In the spring of 1944, Hemingway traveled to London and then to France to cover World War II for Colliers Magazine.

Obviously he was a little late in arriving. Why did he go? He had resisted this kind of journalism for much of the early period of the war, but when he finally decided to go, he threw himself into the thick of events and so became a conduit to understanding some of the major events and characters of the war.

He flew missions with the RAF (in part to gather material for a novel); he went on a landing craft on Omaha Beach on D-Day; he went on to involve himself in the French Resistance forces in France and famously rode into the still dangerous streets of liberated Paris. And he was at the German Siegfried line for the horrendous killing ground of the Huertgen Forest, in which his favored 22nd Regiment lost nearly man they sent into the fight. After that tragedy, it came to be argued, he was never the same.

This invigorating narrative is also, in a parallel fashion, an investigation into Hemingway's subsequent work—much of it stemming from his wartime experience—which shaped the latter stages of his career in dramatic fashion.
Praise For Hemingway at War: Ernest Hemingway's Adventures as a World War II Correspondent…
"Mort has penned an intricately detailed book that considers well Hemingway's complicated persona."
— Charleston Post and Courier

"Mort is a fine writer who has put his finger on an element in Hemingway's career that hasn't been broadly considered."
— Buffalo News

"Hemingway at War is about much more than Hemingway, offering what some might think of as padding, but I found Mort's character sketches and descriptions of momentous events that were the backdrop to the Hemingway story to be interesting and informative. This is a well-written and well-researched book that will interest admirers of Hemingway, as well as those interested in the war in Europe. "
— The Washington Times

"An occurrence that encompasses a piece of scholarship new to the World War II time period. Offers new and unique information to fuel further commentary. Hemingway at War is as much about war as it is about Hemingway, and I decidedly recommend it if those weighty topics are favorable to you."
— Bookreporter

"An attempt to fill a gap in an otherwise thoroughly examined life. Entertaining."
— Kirkus Reviews
Pegasus Books, 9781681772479, 312pp.
Publication Date: December 6, 2016
About the Author
Terry Mort studied English literature at Princeton University. Later he served as an officer in the navy, including a lengthy deployment to Vietnam. He is the author of a book on fly-fishing and, most recently, The Hemingway Patrols and The Wrath of Cochise. He has also edited works by Mark Twain, Jack London, and Zane Grey. He lives with his wife in Sonoita, Arizona.
or
Not Currently Available for Direct Purchase