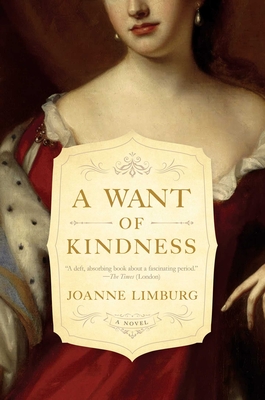 A Want of Kindness
A Novel
Hardcover

* Individual store prices may vary.
Description
Unfolding in the heady world of the glittering Restoration court, A Want of Kindness follows an expendable princess on her unlikely progress to becoming queen, through the religion, politics, disease, deceit, and treachery of the time.

The wicked, bawdy Restoration court is no place for a child princess. Ten-year-old Anne cuts an odd figure: a sickly child, she is drawn towards improper pursuits. Cards, sweetmeats, scandal, and gossip with her Ladies of the Bedchamber figure large in her life. But as King Charles' niece, Anne is also a political pawn, who will be forced to play her part in the troubled Stuart dynasty.

Transformed from overlooked princess to the heiress of England, she will be forced to overcome grief for her lost children, the political maneuverings of her sister and her closest friends, and her own betrayal of her father, before the fullness of her destiny is revealed. In A Want of Kindness, Limburg has created a richly realized time and world, and in Anne, a complex and all-too-human protagonist.
Praise For A Want of Kindness: A Novel…
"It's impossible not to be moved. 'How shall I bear my life, Mrs. Freeman?' Anne cries at the novel's end. That we care about the answer is Limburg's gift to Anne, and a fine gift too."
— New York Times Book Review

"An elegant, clever novel."
— Daily Express

"An intimate portrait of a Stuart princess whom history has occasionally underestimated. Limburg succeeds in humanizing Anne and bringing her worldview to vivid life."
— Kirkus Reviews

"Reading A Want of Kindness will prevent readers from seeing only the enigmatic crowned figure of legend or even the pathetic woman behind that well-worn image. They will never look at her quite the same way again after seeing how she came to that sad state."
— Washington Times

"Limburg goes full Hilary Mantel in burrowing deep into Anne's life and the politics of the Stuart court. Writing in short chapters interspersed with actual letters to, by, and about Lady Anne, Limburg proves adept at creating the inner life of an English queen who has been overlooked by history."
— Publishers Weekly

"Limburg uses primary source material to great effect in unveiling the personality behind this queen whose name is associated with Britain's Augustan Age. Limburg's first novel will appeal to devotees of Stuart history and fans of Philippa Gregory."
— Library Journal

"Limburg attempts to tell Anne's story through a mix of fact—in the form of letters Anne herself wrote—and fiction, the author's own imaginings of Anne's everyday life, conversations and interactions. The result is the story of a life quite undervalued by those around her, a girl ignored and brought up to be less than her station, who relied on food and cards to comfort her."
— Bookreporter

"Limburg succeeds in making the story of diffident Anne amusing and engaging. Readers who enjoy following the stories of the English monarchs through historical fiction can hardly do better than to choose A Want of Kindness for this period."
— HistoricalNovels.info

"It is usual to praise the authors of memoir for their honesty. Can a writer be too honest? There is no limit to the ingenuity of the catastrophising imagination. She brings insight and a rueful wit to her story. This talented and thoughtful young woman must be braver than she imagines, to step into the fiery circus where the modern writer performs her tricks."
— Hilary Mantel
Pegasus Books, 9781681772592, 448pp.
Publication Date: December 6, 2016
About the Author
Joanne Limburg is the author of a memoir, The Woman Who Thought Too Much, about her struggle with obsessive-compulsive disorder, which was praised by Hilary Mantel, among others. This is her first novel. She lives in Cambridge, England.
or
Not Currently Available for Direct Purchase