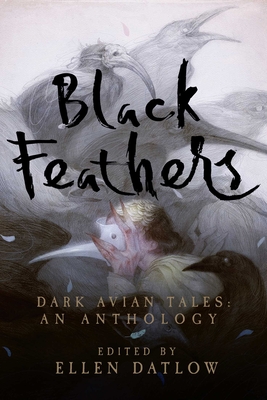 Black Feathers
Dark Avian Tales: An Anthology
Hardcover

* Individual store prices may vary.
Description
A dazzling anthology of avian-themed fiction guaranteed to frighten and delight, edited by one of the most acclaimed horror anthologists in the genre.

Birds are usually loved for their beauty and their song. They symbolize freedom, eternal life, the soul. But there's a dark side to the avian. Birds of prey sometimes kill other birds (the shrike), destroy other birds' eggs (blue jays), and even have been known to kill small animals (the kea sometimes eats live lambs). And who isn't disgusted by birds that eat the dead—vultures awaiting their next meal as the life blood flows from the dying.

Is it any wonder that with so many interpretations of the avian, that the contributors herein are eager to be transformed or influenced by them? Included in Black Feathers are those obsessed by birds of one type or another: A grieving widow takes comfort in her majestic winged neighbors, who enable her to cope with a predatory relative. An isolated society of women relies on a bird to tell their fortunes. A chatty parrot makes illegal deals with the dying. A troubled man lives in isolation with only one friend for company—a jackdaw.

In each of these fictions, you will encounter the dark resonance between the human and avian. You will see in yourself the savagery of a predator, the shrewd stalking of a hunter, and will wade into this feathered nightmare, braving the horror of death for that which we all seek—the promise of flight.
Praise For Black Feathers: Dark Avian Tales: An Anthology…
"Memorable birds from fiction and film are now joined by a new flock of feathered friends. The compilation takes the reader on riveting macabre flights of fantasy that address winged victories and human fallacies."
— Diabolique Magazine

"Datlow taps into the spooky and sometimes unsettling aspects of the bird kingdom. A solid selection of dark fantasy and horror pieces, many of which possess a more literary tone, opting for psychological and subtle terror over blood and gore. A thought-provoking exploration of the theme."
— Publishers Weekly

"This haunting anthology presents an amazing array of writers who use avian tales to touch upon the shadows and light that exist in human lives. Aficionados of dark fantasy and horror will appreciate."
— Library Journal

"The vastly different ways the terror presents itself, and the distinct storytelling styles and pacing more accurately reflect how deep seated and pervasive our fear of avians truly is. A volume to satisfy dark fantasy and horror readers alike."
— Booklist

"A tightly focused collection of short stories that is perfect for those with a fascination for the disquieting aspect of the avian, as well as for readers who enjoy a few supernatural thrills with their crime. The long shadow of dark wings reaches across each page, making this anthology essential reading for the horror/crime completest."
— Criminal Element

"With this anthology, Datlow has further cemented her reputation as an editor with an eye for quality and her finger on the pulse of the horror genre. Here she has assembled a stellar line-up of some of the very best writers in the field today, every one a published and accomplished master of the craft. With such contributors there is no question that the anthology would be good. But under the stewardship of Datlow, the stories take wing and fly."
— This is Horror

"Black Feathers is another triumph for this talented editor and highly recommended for its diverse and skilled contributors. It will definitely cause you to think twice the next time you see a flock of birds soaring through the sky or hear their songs outside your window."
— Bookgasm

"With concepts as high-flying, and prose as graceful, as the birds around which it is themed, Black Feathers is a well-conceived and -executed anthology, and a showcase of some of the finest speculative and weird fiction of 2017."
— New York Journal of Books

"Datlow's latest collection could be the one to engage teens in the short story format. Fans of Edgar Allan Poe's work or Alfred Hitchcock's The Birds will find these more contemporary tales equally compelling. The volume as a whole is a creative writing teacher's dream. This riveting anthology should amply reward those who love eerie fare."
— School Library Journal

"A masterful presentation of dark avian-themed shorts. At its very worst, it is good, more often it's great, at other times it is superb. Entertaining on numerous levels: endearing, suspenseful, beautiful, painful, incredible."
— Unnerving Magazine

"Good reads in a disturbing way. I recommend Black Feathers for fans of weird fiction."
— SF Crowsnest
Pegasus Crime, 9781681773216, 336pp.
Publication Date: February 7, 2017
About the Author
Ellen Datlow is one of horror's most acclaimed editors. Datlow was the fiction editor of OMNI for nearly twenty years and also edited the magazines Event Horizon and Sci Fiction. Her many bestselling anthologies include The Year's Best Fantasy and Horror series; Snow White, Blood Red; Lovecraft's Monsters; Naked City; and Darkness. She has won multiple Hugo, Locus, and Shirley Jackson awards and has received several lifetime achievement awards, including the Bram Stoker. Datlow lives in New York City.
or
Not Currently Available for Direct Purchase