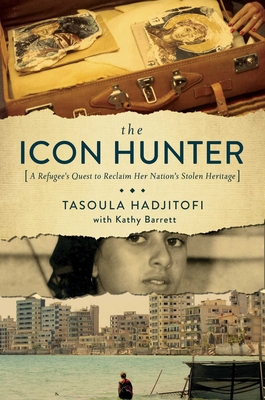 The Icon Hunter
A Refugee's Quest to Reclaim Her Nation's Stolen Heritage
Hardcover

* Individual store prices may vary.
Other Editions of This Title:
Paperback (8/14/2018)
Description
One woman's pursuit of justice leads her on a riveting adventure into the world of art trafficking.

Tasoula Hadjitofi was only a child when her homeland, Cyprus, was invaded. As bombs fell and soldiers marched through the streets, her mother stood guard, reminding her children to not be afraid—not of the bombs or anything else that may follow. They would always have their family and their faith. Soon thereafter, Tasoula found herself homeless and nation-less. A refugee.

Decades later, she's a successful entrepreneur and the honorary Cypriot consul to The Netherlands. But family and faith remained her touchstones—and she never lost her longing for "home." She often thought of the gorgeous Cypriot churches and their icons. One day, an art dealer offers her a chance to buy Cyprian icons stolen during the war. Icons hold a special place in the hearts of many Greek Cypriots. They are not just masterpieces—they are artistic manifestations of faith and a gateway to the divine.

Outraged, Tasoula sets out on a quest to repatriate these artifacts. An immensely difficult task as icons often lack provenance in the eyes of the law. But she is determined. Yet the road to "The Munich Case"—the largest art trafficking sting in European history—is filled with mind games, subterfuge, global politics, and a shady figure named Van Rinj, whose motives are never entirely clear...
Praise For The Icon Hunter: A Refugee's Quest to Reclaim Her Nation's Stolen Heritage…
"Hadjitofi's journey is endearing, and she brings the plight of the Cypriots into sharper focus. An intimate trek into the venal world of art looting and selling."
— Kirkus Reviews

"Tasoula Hadjitofi's life is the stuff of novels, providing perfect material for her memoir."
— The Washington Diplomat

"A gripping memoir. Hadjitofi exposes the 'underworld of art traffickers' with intricate detail as she documents all the legal loopholes and battles that stand in the way of repatriating stolen artifacts. The book is a powerful and important chronicle of art trafficking and its impact on the lives of those torn apart by war, and Hadjitofi is a caring and exacting storyteller."
— Publishers Weekly

"The Icon Hunter is not only a quest for justice but for spirituality as well. Tasoula Hadjitofi achieves both. She is truly brave and her work is a shining example to us all that a persevering woman is a force to reckon with. In the age of ISIS and the routine destruction of historic sites, art, and artifacts, Tasoula's work is timely and an inspiration for all who care to preserve the human legacy of art. I simply cannot wait for this story to be turned into a movie. As a book, it is impossible to put down."
— Ayaan Hirsi Ali, New York Times bestselling author of "Infidel" and "Heretic"

"In a memoir that reads like a high-stakes mystery, Cypriot refugee Tasoula Hadjitofi struggles to find her rightful place in the world and to return the religious treasures of her homeland to theirs. Along the way, her compelling personal tale illustrates the devastating cultural, historic, spiritual and moral consequences of illegal art trafficking."
— Nicholas Gage, author of 'Eleni' and 'Greek Fire'

"Best suited to readers interested in Cypriot history, high-end art trafficking, and the daunting challenges of protecting cultural heritage in conflict zones."
— Library Journal

"Equal parts memoir and detective story. Tasoula Hadjitofi is a proud, intelligent, resourceful, and brave woman who refuses to allow injustice to stand; she is a warrior in the battle to protect the world's cultural heritage from those who would destroy it or seek to profit from it."
— Independent
Pegasus Books, 9781681773230, 400pp.
Publication Date: April 11, 2017
About the Author
Tasoula Hadjitofi was born in Famagusta, Cyprus. In 1974, she and her family were forced to flee their home due to the Turkish invasion of Cyprus and the outbreak of war. Tasoula has served as the Honorary Consul of Cyprus in The Netherlands and while holding this office she spent more than two decades recovering the stolen cultural and religious heritage of her homeland. Her efforts culminated in the 1997 "Munich Case," one of the largest art trafficking sting operations in European history. She is the founder of Walk Of Truth, a non-governmental organization whose mission is to raise awareness about the importance of preserving cultural heritage in conflict areas. She lives in the Netherlands with her family.
or
Not Currently Available for Direct Purchase