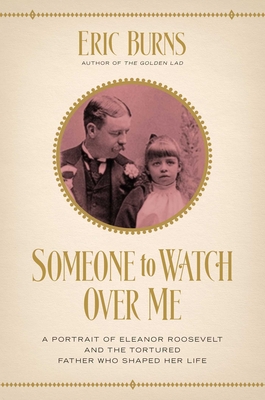 Someone to Watch Over Me
A Portrait of Eleanor Roosevelt and the Tortured Father Who Shaped Her Life
Hardcover

* Individual store prices may vary.
Other Editions of This Title:
Paperback (2/13/2018)
Description
A fresh and sensitive examination of Eleanor Roosevelt—one of the most remarkable Americans in history—and the tortured father who would inspire and shape her future leadership and advocacy.

Eleanor Roosevelt is viewed as one of the most pioneering women in American history. But she was also one of the most enigmatic and lonely. Her loveless marriage with FDR was no secret, and she had a cold relationship with most of her family, as well, from her distant mother to her public rivalry with her cousin, Alice. Yet she was a warm person, beloved by friends, and her humanitarian work still influences the world today. But who shaped Eleanor? It was the most unlikely of figures: her father Elliott, a lost spirit with a bittersweet story.

Elliott was the brother of Theodore Roosevelt, and he was as winsome and charming as Theodore was blustery and competitive. Though the two maintained a healthy rivalry in their youth, Elliott would eventually succumb to alcoholism and would be exiled to the Virginia countryside. But he kept up a close correspondence with his daughter, Eleanor, who treasured his letters and would read them nightly for her entire life for guidance, inspiration, and love.

As he did in the critically acclaimed The Golden Lad, Eric Burns' insightful and lucid prose reveals new facets to the lives of these pillars of American history.
Praise For Someone to Watch Over Me: A Portrait of Eleanor Roosevelt and the Tortured Father Who Shaped Her Life…
"Burns's work is captivating, suspenseful, and heartbreaking. This is how biographies should be written."
— Publishers Weekly (starred)

"A new light on the Roosevelt clan that serves as illumination of the short life of an unhappy man."
— Kirkus Reviews

"Using personal letters and the little information that is known of his relationship with Eleanor, the author underscores the crucial connection between her success and idolization of her father. He displayed abiding, unconditional love and forgiveness, encouraging her to be courageous, studious, and to persevere. For Eleanor, he demonstrated humility, tenderness, and generosity, serving as her only joy in childhood and lifelong inspiration."
— Library Journal

"A deep examination of the esteemed First Lady."
— Bookreporter
Pegasus Books, 9781681773285, 304pp.
Publication Date: March 7, 2017
About the Author
Eric Burns, a former NBC News correspondent and Today Show pundit, appears regularly as a commentator for Entertainment Tonight and hosts A&E's Arts & Entertainment Revue. He was the former host of Fox News Watch and has won an Emmy for media criticism. He is the author of Infamous Scribblers and The Spirits of America and lives in Westport, Connecticut.
or
Not Currently Available for Direct Purchase