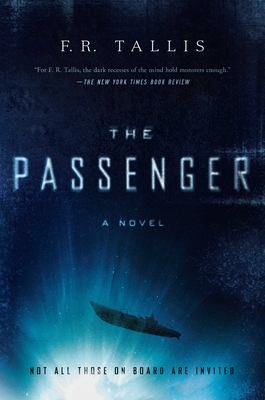 The Passenger
Paperback

* Individual store prices may vary.
Other Editions of This Title:
Digital Audiobook (2/14/2016)
Compact Disc (2/15/2016)
MP3 CD (2/15/2016)
Compact Disc (2/15/2016)
Hardcover (2/1/2016)
Description
1941. A German submarine, U-471, patrols the stormy inhospitable waters of the North Atlantic. It is commanded by Siegfried Lorenz, a maverick SS officer who does not believe in the war he is bound by duty and honor to fight in.U-471 receives a triple-encoded message with instructions to collect two prisoners from a vessel located off the Icelandic coast and transport them to the base at Brest—and a British submarine commander, Sutherland, and a Norwegian academic, Professor Bjørnar Grimstad, are taken on board. Contact between the prisoners and Lorenz has been forbidden, and it transpires that this special mission has been ordered by an unknown source, high up in the SS. It is rumored that Grimstad is working on a secret weapon that could change the course of the war . . .Then, Sutherland goes rogue, and a series of shocking, brutal events occur. In the aftermath, disturbing things start happening on the boat. It seems that a lethal, supernatural force is stalking the crew, wrestling with Lorenz for control. A thousand feet under the dark, icy waves, it doesn't matter how loud you scream...
Praise For The Passenger…
Fans of the German novel (and, later, movie) Das Boot will particularly enjoy this book's almost palpable feelings of claustrophobia and impending disaster, and readers of WWII fiction will appreciate the level of detail the author brings to the story. It succeeds brilliantly.


What we have here is a proper scare-your-socks-off
horror novel.

Elegant prose stylist Tallis evokes both the eerie loneliness of life aboard a submarine and the pernicious creep of paranormal forces.

Clever and spooky. For Tallis, the darker recesses of
the mind hold monsters enough. The novel is an elegantly constructed
psychiatric Gothic, all spires and gargoyles and ghostly echoes — the sort of
vast, dread edifice we sometimes build around ourselves when the lights go out.

Gripping. Dialogue is fast paced, and the action is vivid and realistic. A range of paces and mix of themes, from the action of war to romance between battles, make this a story that is full of adventure and more.

A chilling tale of supernatural snooping. This horror
story is undeniably hair-raising.

F.R. Tallis does an excellent job of evoking the claustrophobic feel of living in a metal tube with a thousand feet of water pressing down on you.

If you're looking for the best in popular fiction,
Tallis is well worth seeking out.

Tallis is a clinical psychologist, which is reflected in his deft character development and realistic dialogue in The Passenger.
Pegasus Crime, 9781681773315, 400pp.
Publication Date: April 4, 2017
About the Author
F. R. Tallis is a writer and clinical psychologist. Between 1999 and 2012, he has received or been nominated for numerous awards, including the New London Writers' Award, the Ellis Peters Historical Dagger, the Elle Prix de Letrice, the Crime Writers' Association Historical Dagger Award, and two Edgar Allen Poe Awards. His critically acclaimed Liebermann series (written as Frank Tallis) has been translated into fourteen languages and optioned for TV adaptation.
or
Not Currently Available for Direct Purchase