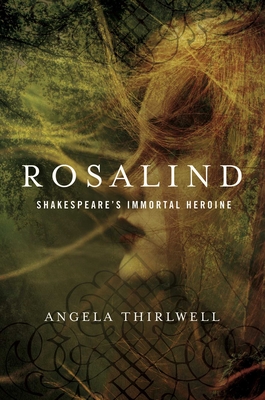 Rosalind
A Biography of Shakespeare's Immortal Heroine
Hardcover

* Individual store prices may vary.
Description
A unique biography exploring Shakespeare's iconic Rosalind, heroine of As You Like It, seen through the eyes of the artists who have brought her to life.
Into the spotlight steps Rosalind, from
As You Like It
. She's alive. She's modern. She's also a fiction.
Played by a boy actor in 1599, Rosalind is a girl who gets into men's clothes so that she can investigate the truth about love. Both male and female, imaginary and real, her intriguing duality gives her a special role.
This book is for everyone who has ever loved Shakespeare. Rosalind, his most innovative heroine, can never die. There is no clock in the Forest of Arden where Rosalind finds herself and applies her mercurial wit to teach her lover, Orlando, how to become her perfect partner, issues which consume men and women today.
This highly original biography of Rosalind contains exclusive new interviews with Juliet Rylance, Sally Scott, Janet Suzman, Juliet Stevenson, Michelle Terry, award-winning director Blanche McIntyre, as well as insights from Michael Attenborough, Kenneth Branagh, Greg Doran, Rebecca Hall, Adrian Lester, Pippa Nixon, Vanessa Redgrave, and Fiona Shaw.
Exploring the fictitious life and the many after-lives of Rosalind, Angela Thirwell delves into the character's perennial influence on drama, fiction and art. For any fan of the theater, this book ranges far and wide across the Elizabethan world, sexual politics, autobiography, and filmography, bringing Shakespeare's immortal heroine to new and vivid life.
Praise For Rosalind: A Biography of Shakespeare's Immortal Heroine…
Thirlwell writes with authority about 16th-century theater tradition and about Queen Elizabeth I's place as the most powerful woman in that world and of Rosalind as her avatar. Best of all is Thirlwell's careful analysis of As You Like It as a whole, a handy and readable piece of lit crit that theatergoers and acting professionals alike will clearly find useful. Rosalind is indeed 'an unusual biography,' but one that delivers an A-to-Z discussion of a truly 'immortal' character.


An enthusiastic homage to a character with more lines than any other female character in Shakespeare.

In this animated hybrid of scholarship and creative nonfiction, Thirwell offers a sensitive portrait of one of Shakespeare's most complex female characters, and a sweeping assessment of her cultural legacy. Just as this book ends with an injunction to prize questions over answers, so too will Thirwell's expansive discussion lead curious minds toward creative, boundary-blasting inquiry.

A charming appraisal of the gender-bending protagonist of As You Like It. A model of popular Shakespearean scholarship: engagingly accessible and contagiously enthusiastic.


All Shakespeare fans will be eager to see what actors and directors have to say about Shakespeare's greatest female character in this novel biography.
Pegasus Books, 9781681773353, 304pp.
Publication Date: March 7, 2017
About the Author
Angela Thirlwell attended Oxford and then lectured in English and Theatre Studies for many years at Birkbeck College, University of London. Yale University Press published her first biography, William and Lucy: The Other Rossettis in 2003. Please visit her website at www.angelathirlwell.co.uk.
or
Not Currently Available for Direct Purchase