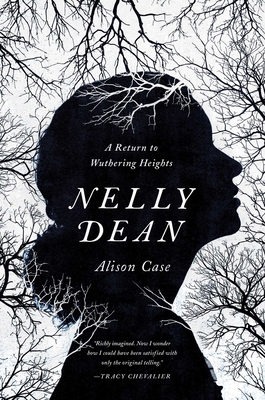 Nelly Dean
A Return to Wuthering Heights
Paperback

* Individual store prices may vary.
Other Editions of This Title:
Hardcover (2/8/2016)
Description
A gripping and heartbreaking novel that re-imagines life at Wuthering Heights through the eyes of the Earnshaws' loyal servant, Nelly Dean.

Young Nelly Dean has been Hindley's closest companion for as long as she can remember, living freely at the great house, Wuthering Heights. But when the benevolence of the master brings a wild child into the house, Nelly learns she must follow in her mother's footsteps, be called "servant" and give herself over completely to the demands of the Earnshaw family.

But Nelly is not the only one who finds her life disrupted by this strange newcomer. As death, illness, and passion sweep through the house, Nelly suffers heartache and betrayals at the hands of those she cherishes most, tempting her to leave it all behind. But when a new heir is born, a reign of violence begins that will test even Nelly's formidable spirit as she finds out what it is to know true sacrifice.

Nelly Dean is a wonderment of storytelling and an inspired accompaniment to Emily Bronte's adored work. It is the story of a woman who is fated to bear the pain of a family she is unable to leave, and unable to save.
Praise For Nelly Dean: A Return to Wuthering Heights…
"Alison Case has cracked open Wuthering Heights and inserted into the gaps her own richly imagined story. In doing so she manages to pay homage to Emily Brönte without copying her. I never thought I needed more Wuthering Heights. Now I wonder how I could have been satisfied with only the original telling."
— Tracy Chevalier, New York Times bestselling author of The Girl With the Pearl Earring

"A masterly reimagining of Emily Brontë's Wuthering Heights. Brontë fans and readers who delight in literary fiction fashioned as 19th-century novels will eagerly snap up this book—and may be tempted to reread Wuthering Heights just for the pleasure of comparing the two novels."
— Library Journal, starred review

"As she recasts her story, Nelly fills gaps in the original and draws a portrait of her own life of caretaking and sacrifice."
— The New York Times Book Review

"Case knows her Brontës. This audacious novel talks to all three sisters' books. But there's nothing mustily lit-critical about it. It's a page-turner, about the things we do to people we love and the secrets and lies that corrode us, told in sinewy, visceral prose. It also has the makings of a feminist classic."
— The Independent

"Both an interesting critique of Wuthering Heights and an absorbing, convincing, and historically sensitive novel."
— Kirkus Reviews

"The inhabitants of Wuthering Heights are reborn in this new view of the Brontë classic. Instead of the gothic drama and passion of Brontë, Case's first novel provides an emotionally balanced account, filling in some gaps and featuring strong, smart Nelly, who is her own woman despite living by the mores of her time. A fast-moving pleasure, this novel is a likely draw for book clubs and a must for Brontë fans."
— Booklist (starred review)

"This engrossing story of loyalty, love and sacrifice is so good it deserves to be a classic in its own right."
— Good Housekeeping (U.K.)

"Leisurely paced. Highly ambitious. Passionate fans of Brontë's masterpiece will find much to admire in Case's richly textured novel."
— Publishers Weekly

"Whether you've read Wuthering Heights a hundred times or never picked it up, you are going to like this book. Nelly's story is heartbreaking and courageous and simply lovely."
— Historical Novels Review

"Case's talents and imagination are well on display in her homage to the gothic classic. Compelling, exciting, and satisfying."
— Bust

"This novel rips the original novel open to fill in all the gaps. Case burrows into the character's psyches to reveal a further layer of family secrets."
— The Times (London)

"Case propels us headlong into the gripping tale of familial turmoil and thwarted passion and created a world so real, so grounded in visceral detail, that no prior knowledge of the Brontë classic is required. However I suspect Nelly Dean will entice many (including this reviewer) to reread the original, with fresh and knowing eyes."
— The Irish Independent

"A gripping piece of literature that tells the story of Wuthering Heights through the eyes of the Earnshaw family's youngest servant."
— The Oregonian

"[An] enthralling first novel. Reading Nelly Dean is like having a long, romantic, tempestuous and thrilling dream. I did not want this dream to end."
— Shore News
Pegasus Books, 9781681773391, 400pp.
Publication Date: February 14, 2017
About the Author
Alison Case received her B.A. from Oberlin College and her Ph.D. in English Literature from Cornell University. Case is a professor at Williams College and is the author of two books and several articles on Nineteenth-century British fiction and poetry. She lives in Williamstown, Massachusetts. This is her first novel.
or
Not Currently Available for Direct Purchase