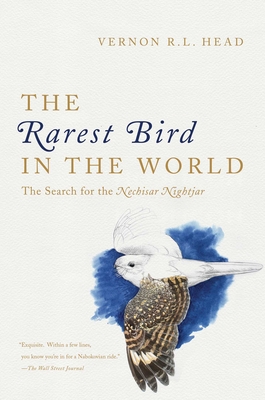 The Rarest Bird in the World (Paperback)
The Search for the Nechisar Nightjar
Pegasus Books, 9781681773476, 272pp.
Publication Date: April 11, 2017
Other Editions of This Title:
Hardcover (3/7/2016)
* Individual store prices may vary.
Description
Part detective story, part love affair, and pure adventure storytelling at its best, a celebration of the thrill of exploration and the lure of wild places during the search for the elusive Nechisar Nightjar.
In 1990, a group of Cambridge scientists arrived at the Plains of Nechisar in Ethiopia. On that expedition, they collected more than two dozen specimens, saw more than three hundred species of birds, and a plethora of rare butterflies, dragonflies, reptiles, mammals, and plants. As they were gathering up their findings, a wing of an unidentified bird was packed into a brown paper bag. It was to become the most famous wing in the world.
This wing would set the world of science aflutter. Experts were mystified. The wing was entirely unique. It was like nothing they had ever seem before. Could a new species be named based on just one wing? After much discussion, a new species was announced: Nechisar Nightjar, or Camprimulgus Solala, which means "only wing." And so birdwatchers like Vernon began to dream.
Twenty-two years later, he joins an expedition of four to find this rarest bird in the world. In this gem of nature writing, Vernon captivates and enchants as he recounts the searches by spotlight through the Ethiopian plains, and allows the reader to mediate on nature, exploration, our need for wild places, and the human compulsion to name things. Rarest Bird is a celebration of a certain way of seeing the world, and will bring out the explorer in in everyone who reads it.
About the Author
Vernon R.L. Head was born in Cape Town, South Africa. He is an award winning architecture and the Chairman of BirdLife South Africa, one of Africa's biggest and most influential conservation organizations. When not working on environmental matters, he is either designing special buildings or traveling the world looking for the rare birds. This is his first book.
Praise For The Rarest Bird in the World: The Search for the Nechisar Nightjar…
Head writes evocatively, making it easy for the reader to virtually smell the dust and hear the sounds. Head writes of his passion for birding and his love of pristine environments. Read and enjoy.

Mr. Head's gently rocking prose is dense with surprising metaphor and exquisitely descriptive phrases, the kind that make a reader double back to savor them twice. Within a few lines, you know you're in for a Nabokovian ride. The seekers find their nightjar. More study is needed. But it hardly matters; the search and Vernon Head's telling are more than satisfying enough.

Head
recounts his journey with reverence and exuberance. His enthusiasm for his
subject is contagious. Head memorably demonstrates that bird-watching is more
than just a hobby, offering an almost magical way to allow flesh-and-blood
fantasies to take flight.

Head is a keen observer. He makes clear the excitement of the chase and the motivations that drive birdwatchers to add names to their life lists, and his love for and appreciation of the natural world are unmistakable.

The skills involved in spotting rare species approaches magic, even as it references science. This combination of reverence and scientific history is attractive as both a work of literature and an illumination. The Rarest Bird in the World is an alluring view into birdwatching and multiple rarities.


A pean to the pristine. Think Rider Haggard or Indiana Jones with birds. Accomplished, vivid, lyrical prose that is full of wonderment.

Head's language is laudatory, his tone elegiac. His search for an elusive bird opens up his past and reveals a contagious curiosity and passion about nature.

A lyrically written adventure story. An adrenaline rush.

Recommended for those interested in natural history, exploration, and Africa.
or
Not Currently Available for Direct Purchase