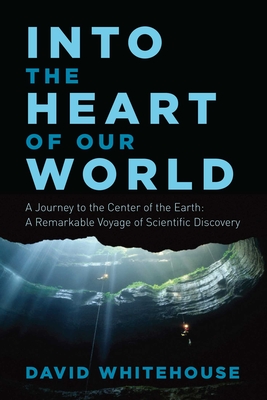 Into the Heart of Our World (Paperback)
A Journey to the Center of the Earth: A Remarkable Voyage of Scientific Discovery
Pegasus Books, 9781681773513, 288pp.
Publication Date: April 11, 2017
Other Editions of This Title:
Hardcover (2/1/2016)
* Individual store prices may vary.
Description

Our planet appears tranquil from outer space. And yet the arcs of volcanoes, the earthquake zones, and the auroral glow rippling above our heads are testimony to the remarkable happenings within the earth's core. For thousands of years these phenomena were explained in legend and myth. Only in recent times has the brave new science of seismology emerged. One hundred and fifty years after the extraordinary, imaginative feat of Jules Verne's Journey to the Center of the Earth, David Whitehouse embarks on a voyage of scientific discovery into the heart of our world.

Seismologists today reveal a planet astonishingly buried within a planet. We watch as supercomputers convert signals from the ground into three-dimensional scans of subterranean continents. We will visit laboratories where scientists attempt to reproduce the intense conditions at the center of the Earth, travel down the throat of a volcano, look into the deepest hole ever drilled, and imagine a voyage through enormous crystals of iron...all at the center of our incredible Earth.