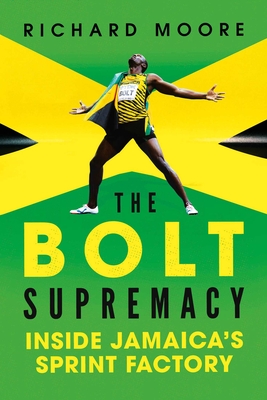 The Bolt Supremacy (Hardcover)
Inside Jamaica's Sprint Factory
Pegasus Books, 9781681774077, 336pp.
Publication Date: May 9, 2017
Other Editions of This Title:
Paperback (6/12/2018)
* Individual store prices may vary.
Description
Like football evokes Texas in Friday Night Lights, so does the speed and drama of sprinting provide a unique view into Jamaica—home to the mighty Usain Bolt and the fastest runners in the world.
Beijing 2008: Usain Bolt slows down as he approaches the finish line of the the 100-meter finals. He beats his chest, well ahead of his nearest rival, his face filled with the euphoria of a young man utterly in thrall to his extraordinary physical talent. It is one of the greatest moments in sports history, and it is just the beginning.
Of the ten fastest 100-meter times in history, eight belong to Jamaicans. How is it that a small Caribbean island has come to almost totally dominate the men's and women's sprint events? The Bolt Supremacy opens the doors to a community where sprinting permeates conversations and interactions; where the high school championships are watched by 35,000 screaming fans; where identity, success and status are forged on the track, and where making it is a pass to a world of adoration and lucrative contracts. In such a society there can be the incentive for some to cheat. There are those who attribute Jamaican success to something beyond talent and hard work.
Award-winning writer Richard Moore doesn't shy away from difficult questions as he travels the length of this beguiling country speaking to anti-doping agencies, scientists and skeptics as well as to coaches, gurus, superstar athletes and the young guns desperate to become the next big thing. Peeling back the layers, Moore finally reveals the secrets of Usain Bolt and the Jamaican sprint factory.
About the Author
Richard Moore, a former racing cyclist, is a journalist and the author of several books, and has been longlisted for the William Hill Award.  He is the author of Slaying the Badger and lives in the United Kingdom.
Praise For The Bolt Supremacy: Inside Jamaica's Sprint Factory…
Entertaining.

His research and interviews with coaches, doctors, scholars, and athletes on and off the island is impressive. Fascinating reading for track fans.

Usain Bolt taps into our human fascination with speed, giving this book high appeal to track and Olympics fans and curious readers beyond the sports world.

A fascinating account of how a Caribbean island came to rule the world in the art and science of running very fast indeed.

Compelling . . . thoughtful and wide-ranging . . . leaves you feeling optimistic.

What this book does is capture the spirit of the sport in Jamaica. Moore clearly reveled in this grass roots exuberance and it is hard, reading this book, not to do so too.
or
Not Currently Available for Direct Purchase