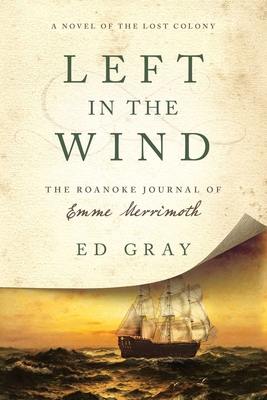 Left in the Wind
A Novel of the Lost Colony: The Roanoke Journal of Emme Merrimoth
Paperback

* Individual store prices may vary.
Other Editions of This Title:
Hardcover (5/3/2016)
Description
In 1587, the 118 men, women, and children of the "Lost Colony" were abandoned by their governor on what is now Roanoke Island, North Carolina, and never heard from again. In this fictional journal, Emme Merrimoth—one of the actual colonists of Roanoke—recounts the harrowing journey that brought the colonists to the New World. During the voyage, Emme becomes involved with Governor John White, who reassigns her to his household and then asks her to marry him. With no better prospects and happy to be free of her bland former employers, Emme agrees.Once on Roanoke, the colonist restore the village abandoned by former English settlers and realize, when faced with hostile natives, that they have been misled by White. White plots to return to England to avoid the hardship of the New World, and he and his supporters drive a hard bargain with the colonists: they will send back much-needed supplies from England if they allow White to flee without interference. Faced with little choice, the colonists agree, and are left to fare on their own.Emme, due to a scandalous past, is accused of witchcraft, shunned by the colonists, and enslaved by a nearby tribe. But throughout these dramatic turn of events, Emme commits herself to putting down on paper her every memory of the Lost Colony.
Praise For Left in the Wind: A Novel of the Lost Colony: The Roanoke Journal of Emme Merrimoth…
First-time novelist Gray artfully reimagines [the Roanoke colonists'] journey to and in the New World. Paints a poignant portrait of the lost colony and its inhabitants. Fascinating historical fiction served up in an easily consumed form.

Part historical novel, part detective story, Left in the Wind is filled with fascinating details of colonial settlement life and Native American culture. It's a gripping story that readers will have trouble putting down.


Authentic, honest and nuanced. In addition to richly drawn characters, Left in The Wind has enough sex and intrigue to keep up with The Other Boleyn Girl, and enough wild adventure to compete with Jack London. While some historical fiction can veer toward dry, academic prose, Left in the Wind is fast-paced and thrilling enough to be a beach read.


Dalliances on deck, kidnappings by Indians, Puritan scandal, even the inevitable accusation of witchcraft—Ed Gray delivers it all. Emme's voice is entertaining.

A stirring action-packed adventure story full of passion, fear, love, friendship, rage, and jealousy. Go a little deeper and it's a history lesson, an exploration of sexuality, and a sad exposition of the clashes between Old World and New World peoples. Deeper still and the story can be read as a metaphor of the creative process. This novel satisfies at all its levels.
— Ernest Herbert, author of 'The Old American' and the seven-novel Darby Chronicles

Ed Gray has taken an intriguing premise and delivered a fabulous wallop of a tale. Ribald and funny, gruesome and stark, Left in the Wind offers up the distinct stench of sixteenth century European colonists adrift in a new world, of horrors of their own making, of innocence run afoul.

— Jeffrey Lent, international bestselling author of 'In the Fall,' 'Lost Nation,' and 'A Slant of Light'

A tiny settlement on the edge of a howling wilderness. One woman's story on the brink of emptiness and silence. The settlement is doomed. We know that almost from the beginning. But what happens to the story? Well, therein lies a tale. And it's one Ed Gray—and his indomitable heroine Emme Merrimoth—tells with cleverness, wit, and a great eye for adventure. Left In the Wind teems with historical detail, knowing accounts of human passions under the pressures of survival, and the powerful fears and hopes of the human heart longing for a New World.

— John Griesemer, international bestselling author of 'Signal & Noise,' 'No One Thinks of Greenland,' and 'Hearts of Men'
Pegasus Books, 9781681774107, 256pp.
Publication Date: May 9, 2017
About the Author
Ed Gray was the founding editor of the revered Gray's Sporting Journal, where he discovered and edited the early fiction of E. Annie Proulx, Rick Bass, and many others. He subsequently founded Graybooks Publishers and Aisle Seat Books. He is also the author of a dozen books of essays and other writings. Left in the Wind is his first novel. He lives in New Hampshire with his wife, Rebecca.
or
Not Currently Available for Direct Purchase