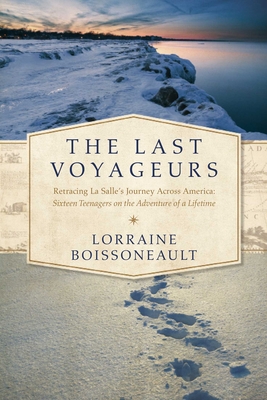 The Last Voyageurs (Paperback)
Pegasus Books, 9781681774138, 288pp.
Publication Date: May 9, 2017
Other Editions of This Title:
Hardcover (4/11/2016)
* Individual store prices may vary.
Description
Reid Lewis never wanted to be an ordinary French teacher. With the approach of the American Bicentennial, he decided to put his knowledge of French language and history to use in recreating the voyage of René Robert Cavelier, Sieur de La Salle, the first European to travel from Montreal to the end of the Mississippi River. Lewis' crew of modern voyageurs was comprised of 16 high school students and 6 teachers who learned to sew their own 17th-century clothing, paddle handmade canoes, and construct black powder rifles.Together they set off on an eight-month, 3,300-mile expedition across the major waterways of North America. They fought strong currents on the St. Lawrence, paddled through storms on the Great Lakes, and walked over 500 miles across the frozen Midwest during one of the coldest winters of the 20th century, all while putting on performances about the history of French explorers for communities along their route. The crew had to overcome disagreements, a crisis of leadership, and near-death experiences before coming to the end of their journey. The Last Voyageurs tells the story of this American odyssey, where a group of young men discovered themselves by pretending to be French explorers.
About the Author
Lorraine Boissoneault is a graduate of Columbia University's Graduate School of Journalism, where she studied narrative nonfiction. She is an editor at the Weather Channel and lives in Chicago.
Praise For The Last Voyageurs…
An almost forgotten chapter of our history is brought to light in this chronicle that should be widely read and remembered.
— Christopher Webber, author of Give Me Liberty

In The Last Voyageurs, Lorraine Boissoneault brings both 17th and 20th century history alive in her telling of a daring group of high school students, led by educators, who in 1976 retraced in period gear the 3,300-mile journey of the French explorer La Salle. She puts the reader in the canoes of the youths who traveled from Lake Ontario to New Orleans via the Mississippi River.

— Dale Maharidge, Pulitzer Prize-winning author of And Their Children After Them

Lorraine Boissoneault has written a contemporary classic in the literature of the vision quest – part arduous odyssey, part coming-of-age saga. And this book has the added advantage of being indelibly true, lived out by a charismatic teacher and the high school students who volunteer as his crew on a 3,000-mile canoe journey from the St. Lawrence River to the Gulf of Mexico. Here is risk, injury, pain, contention – and camaraderie, common purpose, rapture, and a life-changing achievement.
— Sam Freedman, Pulitzer Prize-nominated author of The Inheritance
or
Not Currently Available for Direct Purchase